Description
Model: BD-FS-81
As the fiber fusion splicer manufacturer, BD-FS-81 fiber optic fusion splicer is small size optical fiber fusion splicer, mainly used for fusion splices and protection of common communications fibers.
The fiber optical fusion splicer with rich functionality and ultra-low splice loss make the fusion splicer adaptive to fiber splicing in various environments. The fiber optic fusion splicer is featured with small size, light weight, high reliability, greater environmental adaptability, dust-resistant, water-resistant and shock-resistant. Multiple fusion modes and heating modes are available to meet diversified customers' demands.
Fiber loading becomes more convenient and accurate thanks to the ceramic V-groove of high precision, which is easy for clean and maintenance. The fusion fiber splicer is capable of dual-directional fusion. The monitor is a touch screen delivers fresh designed graphical interfaces, the fiber optic fusion splicer are simple for operation. The modular pluggable lithium-ion battery of large-capacity ensures long-time field operations. The auto environment compensation system greatly improves adaptability of the fiber splicer to hostile environments, so that low-loss fusion splice can be remained consistent in various environments.
The

fiber splicers

features.

The optic fiber splicer specifications

| | |
| --- | --- |
| Model | BD-FS-81 Optical Fiber Fusion Splicer |
| Motor qty | 6 |
| Alignment method | Cladding alignment, manual alignment |
| Applicable fibers | Any common optical fibers, rubber-insulated fibers and jumpers that meet    requirements of ITU-TG.651~653, ITU-TG.655 and ITU-TG.657. |
| Optical fiber diameter | Cladding: 80~150μm, coating layer: 0.1~3mm |
| Cleave length | 5~16mm(coated optical fiber diameter≤250μm);10mm(coated optical    fiber diameter:0.25~3mm) |
| Splice loss(typical) | 0.02dB(SMF); 0.01dB(MMF); 0.04dB(DSF); 0.04dB(NZDSF) |
| Return loss | Better than 60dB |
| Splicing time (typical) | 7s (Fast mode) |
| Heating time (typical) | 18s(60mm protection sleeve) |
| Tension | 1.96~2.25N |
| Protection sleeve | 60mm, 40mm and a series of protection sleeves |
| Graphical display | High-performance 4.3 inch LCD |
| Magnification time | 320 times/88 times, 700times |
| Fusion records | 10000 groups |
| Remote maintenance | N/A |
| Battery capacity | 11.1V, 5200mAh |
| Battery service life | Cycle charging: 300~500 counts, can be replaced by customers |
| Electrode service life | Typical: 4000 counts, can be replaced by customers |
| Construction lighting | Built-in lights with high-brightness and wide lighting area |
| Working environment | Temp:-10~50℃; Hum: 0~95%RH,height above sea level: 0~6000m |
| Operation interfaces | GUI (graphical user interfaces) |
| External power | AC: 100~240V, 60Hz, 0~1.5A; DC: 10~15V |
| Port | USB / SD |
| Dimensions | 120mm(W)×130mm(H)×154mm(D)(without rubber anti-vibration pad) |
| Weight | 1.8kg (the battery not included), 2.1kg(included the battery) |
The fiber optics splicer application

BD-FS-81 fiber optic splicers is compact equipment deploying the design of ergonomics, which delivers convenient operation and handy carrying case. Event very short fibers can be spliced easily. The optical fiber splicer is capable of construction and maintenance of optical fiber line projects (including trunk), emergency repair, production and test of optical fiber devices and research and study in institutes.

The fiber splicer package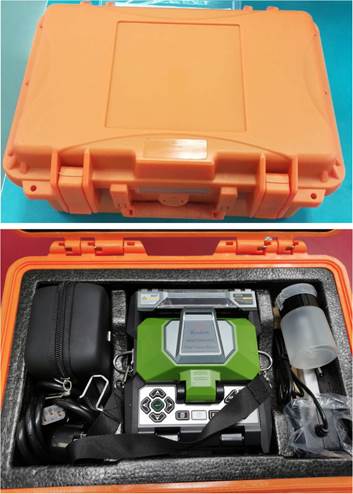 Related Articles: Introduction of Optical fiber fusion Splicer and Its Work
Payment & Security
Your payment information is processed securely. We do not store credit card details nor have access to your credit card information.