Description
The handheld fiber fusion splicer machine, with high performance price ratio, with smart appearance, reliable quality. This machine is a special design for the installation, operation and maintenance of optical fiber specially design a precision, durable, convenient optical fiber construction instrument. Widely used in the construction, inspection, maintenance of fiber cable.
Feature
  ●   Fusion splicer fiber optic is ideal used for FTTH and ordinary fiber project
  ●   Core to core alignment by PAS technology
  ●   8 sec splicing time and 30 sec heat time
  ●   300 X or Y view, 150 X and Y view
  ●   Image storage function
  ●   Split screen display function
  ●   4.3 inch digital high quality LCD screen, observe X and Y view at same time
  ●   Three in one fixture, splicing single fiber, cable indoor and pigtail
  ●   Built in large capacity lithium battery of 200 times splicing and heating
  ●   All metal shell, high strength and beautiful appearance, small size and light weight, 1.6KG including battery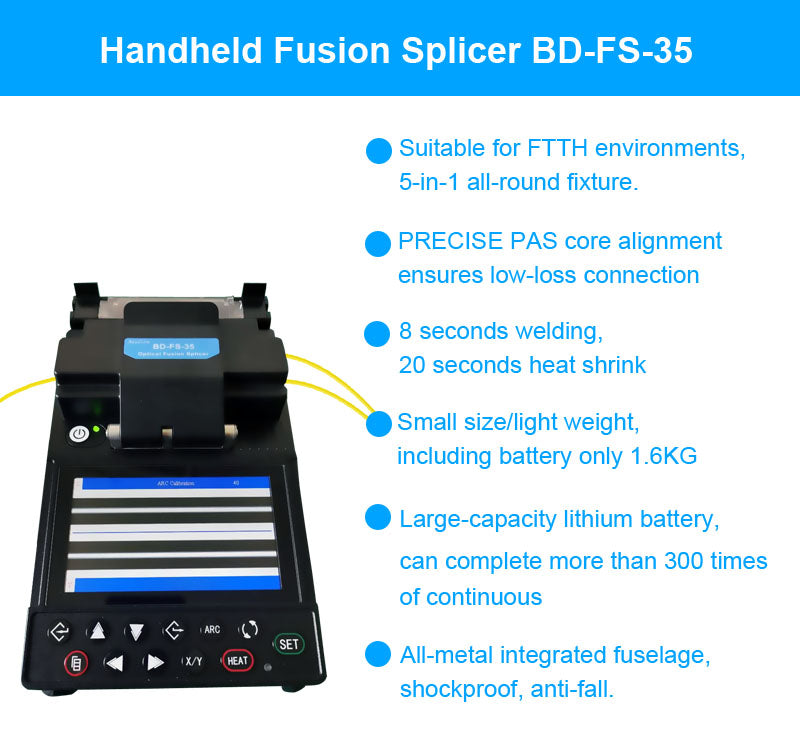 Handheld Fiber Fusion Splicer Machine's Features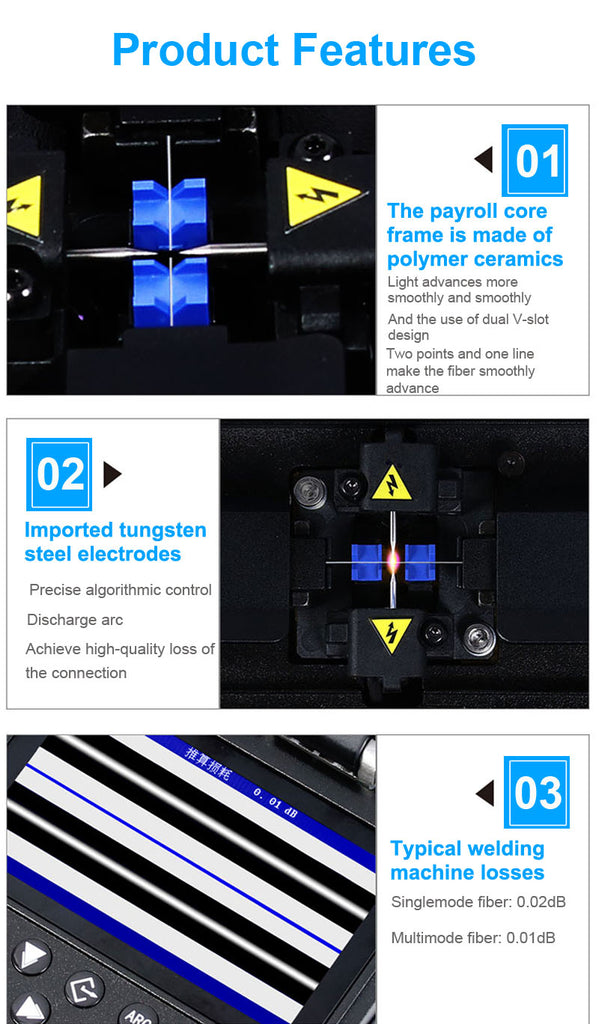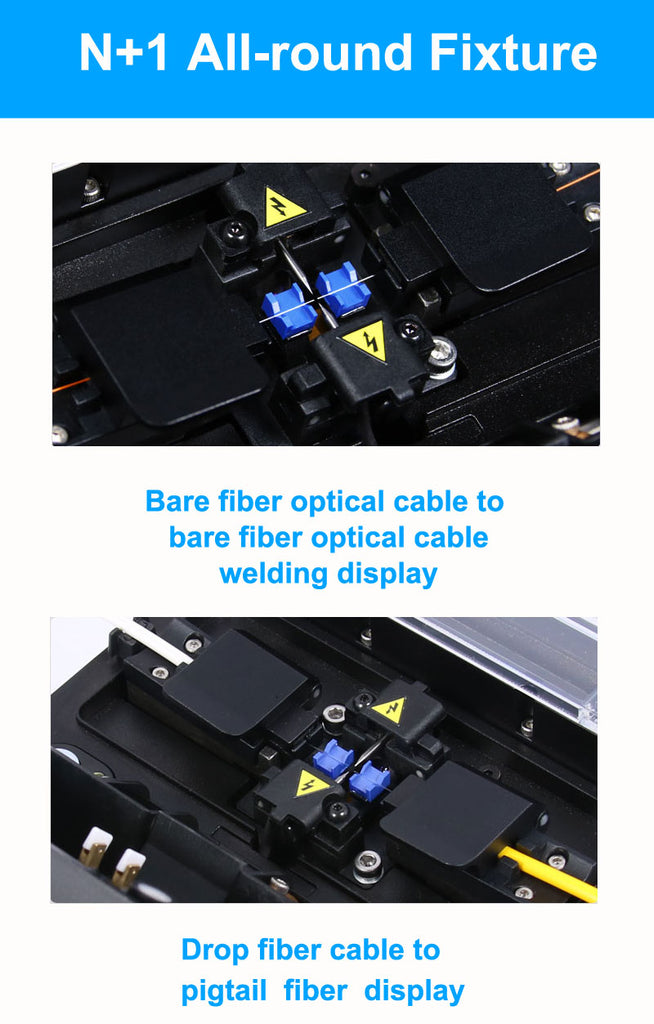 Fusion Splicer Fiber Optic's Specification
Model

Handheld Fiber Fusion Splicer Machine BD-FS-35

Splicing Type

SM, MM, DS, NZDS

Splicing Loss

0.02dB(SM), 0.01dB(MM), 0.04dB(DS), 0.04dB(NZDS)

Return Loss

>60dB

Splicing Mode

Manual, Half Auto, Auto

Fiber Alignment

Core to Core Alignment by PAS technology

Applicable Fiber

Cable indoor and 0.25mm, 0.9mm fiber, SC connector(option)

Splicing Time

≤9s

Heat Time

≤30s AUTO HEAT

Cleaved Length

8~16mm

Fiber Image/ Magnification

300/150  Image storage, Split screen display

View Display

4.3 inch digital high quality LCD screen

Tension Test

Standard 2N (option)

Heat Shrinkable Sleeve

60mm, 40mm and serials heat Shrinkable Sleeve

Battery Capacity

300 cycles splicing and heating, 3 hours charging time(splicing and charging at same time)

Battery Life

Cycling charge 300-500 times, easy to replace battery

Electrodes Life

3000, easy to replace electrodes

Power Source

≤20W

Interface

USB                                                                                                              Convenient data download and software update

Construction Lighting

Built in high brightness, wide range of lights, easy to operate at night

Power supply

Built in lithium battery 5200mAh 11.1V; external adapter, input: AC100-240V, output: DC13.5V/4.5A

Operating Condition

0-5000m above sea level, Temperature: -10-60℃,Humidity: 0~95%RH (No dew)

Weight

1.6KG (including battery),

1.1KG (excluding battery)

Dimension (LxWxH)

200mm(L)×130mm(W)×98mm(H)
 Standard Kit
| | | |
| --- | --- | --- |
| No | Name | Qty |
| 1 |  Fusion Splicer Fiber Optic | 1 set |
| 2 |  Fiber Cleaver | 1 pc |
| 3 |  Fiber Stripper | 1 pc |
| 4 |  AC Adaptor | 1 pc |
| 5 |  Li Battery(5200mAh) | 1 pc |
| 6 |  Charger | 1 pc |
| 7 |  Spare Electrodes | 1 pair |
| 8 |  Cooling Tray | 1 pc |
| 9 | User Manual | 1 pc |
| 10 | Carrying Case | 1 pc |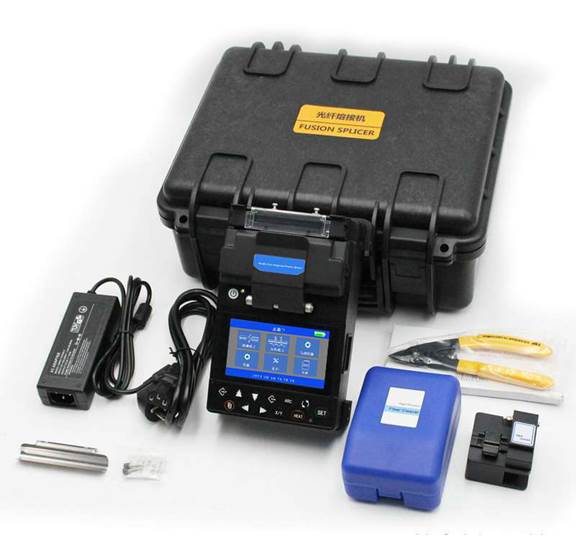 Order information
Product Model
Descriptions
Inquiry
BD-FS-35
handheld fiber fusion splicer machine, core alignment
Payment & Security
Your payment information is processed securely. We do not store credit card details nor have access to your credit card information.