Description
EPON OLT 8 Port has 8PON ports, 8GE ports and 4 ports 10G SFP optical uplink, WEB management and console management. The EPON OLT 8 Port is a 1U rack-mountable device that complies with IEEE802.3ah, YD/T 1475-2006, and CTC 2.02.1 and 3.0. The EPON OLT 8PON offers a variety of properties, including flexibility, ease of deployment, compact size, high performance, and others.
The EPON OLT 8 Port is especially well-suited to household broadband fiber access (FTTX), telephone and television "triple play," power consumption data collecting, video surveillance, networking, private network applications, and other uses.
●    RU19 inch
●    1+1 power redundancy
●    8* fixed EPON port
●    4*10GE SFP+,8*GE RJ45
●    1* console port
●    full-load power consumption≤60W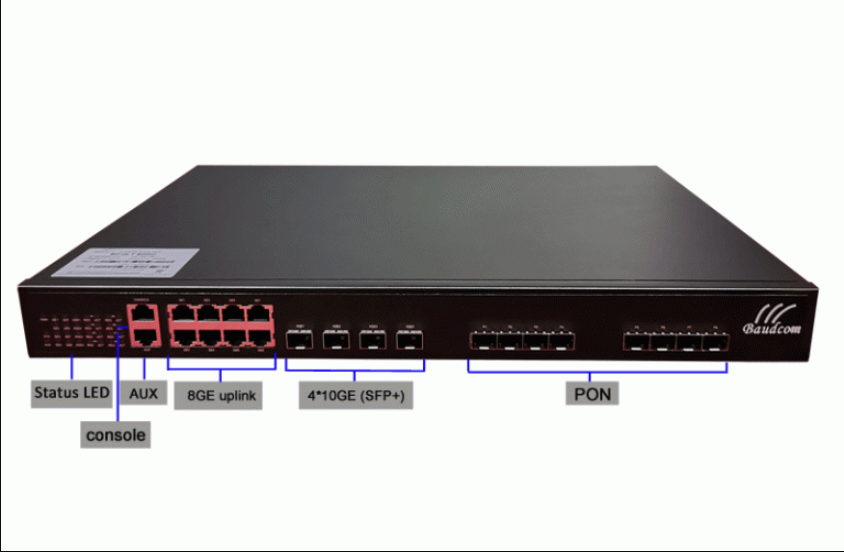 Specification

Hardware   Features
Business Interface

Supply 8 PON Port

4SFP 10GE slots for Uplink
10/100/1000M auto-negotiable,RJ45:8pcs for Uplink
Management Ports
Provide 10/100Base-T RJ45 out-band network management port
It can manage the in-band network through any GE uplink portProvide local configuration port
Provide 1 CONSOLE port
Data exchange
3 layer Ethernet switching, switching capacity 128Gbps, to ensure non-blocking switching
LED Light
RUN、PW instructions system running、power working status
PON1 to PON8 instructions 8 pcs PON port LINK and Active status
GE1 to GE8 instructions 8 pcs GE uplink's LINK and Active status
XGE1 to XGE4 instructions 4 pcs 10GE uplink's Link and Active status
Power Supply
220VAC AC: 100V~240V,50/60Hz  DC:-36V~-72V
Power Consumption 60W
Weight
4.5 Kg
Working Temperature
0~55℃
Dimension
300.0mm(L)* 440.0mm(W)* 44.45mm(H)
EPON Function
EPON Standard
Comply with IEEE802.3ah,YD/T 1475-200 and CTC 2.0 、2.1 and 3.0 standard
Dynamic bandwidth allocation(DBA)
Support fixed bandwidth, guaranteed bandwidth, maximum bandwidth, priority, etc. SLA parameters;
Bandwidth granularity 64Kbps
Security Features
Support PON line AES and triple churing encryption;
Support ONU MAC address binding and filtering;
VLAN
Support 4095 VLAN additions, transparent transmission, conversion and deletion;
Support 4096 VLAN additions, transparent transmission, conversion and deletion;
Support VLAN Stacking (QinQ)
MAC address learning
Support 32K MAC addresses;
Hardware-based wire-speed MAC address learning;
Based on port, VLAN, link aggregation MAC restrictions;
Spanning Tree Protocol
Support IEEE 802.1d (STP), 802.1w (RSTP) and MSTP Spanning Tree Protocol
Multicast
Support IGMP Snooping and IGMP Proxy, support CTC controllable multicast;
Support IGMP v1/v2 and v3
NTP protocol
Support NTP protocol
Quality of  Service(QoS)
Support 802.1p priority queue scheduling;
Support SP, WRR or SP + WRR scheduling algorithm;
Access Control Lists(ACL)
According to the destination IP, source IP, destination MAC, source MAC, destination protocol port number, source protocol port number, SVLAN, DSCP, TOS, Ethernet frame type, IP precedence, IP packets carried protocol type ACL rules set;
Support the use of the ACL rules for packet filtering;
Support Cos ACL rule using the above settings, IP priority setting, mirroring, speed limit and redirect the application;
Flow Control
Support IEEE 802.3x full-duplex flow control;
Support port speed;
Link Aggregation
Support 8 port aggregation group, each group supports 8 member ports
Port Mirroring
Support the port mirroring of uplink interfaces and PON port
Log
Support  by the alarm log output level shield;
Support for logging output to the terminal, files, and log server
Alarm
Support four alarm levels (severity, major, minor, and warning);
Support 6 alarm types (communication, quality of service, processing error, hardware equipment and the environment);
Support alarm output to the terminal, log and SNMP network management server
Performance Statistics
Performance statistics sampling time 1 ~ 30s;
Support the 15 minutes performance statistics of uplink interfaces ,PON port and ONU user port
Administration  maintenance
Support OLT configuration save, support restore the factory settings;
Support OLT online upgrade;
support ONU offline service configuration and automatically configure ;
Support ONU remote upgrade and batch upgrade;
Network management
Support local or remote CLI management configuration;
Support SNMP v1/v2c network management, support band, in-band network management;
Support the standard of broadcasting industry "EPON + EOC" SNMP MIB and support auto-discovery protocol EoC headend (BCMP);
Support WEB config mamagement
Open interfaces for third-party network management;
Order information
| Product Model | Descriptions |
| --- | --- |
| BD-OLT-8000L | Smart Cassette EPON OLT 8PON, 8PON ports, 8GE ports and 4 ports 10G SFP optical uplink, WEB management and console management. |
Q&A
Question1: También instale el sistema EMS siguiendo los tutoriales tampoco me deja acceder lo descargue desde el CD
I installed the EMS system following the tutorials from CD, it does not let me access the EPON OLT.
Answer: After you load the WEB management, delete the rule of "SNMP Deny" as below, then the EMS can work.

Question2: Can Baudcom 8PON EPON OLT support IGMP protocol?
Answer: Yes, Baudcom 8PON EPON OLT supports IGMP protocol.
Order Information
| | |
| --- | --- |
| Model | Description |
|  BD-OLT-8000 | 8Ports GEPON OLT,8PON ports (SFP slots),8GE(copper)+4GE SFP+4*10GE(SFP+) uplink, 1U,19inch rack mount.(SFP slots,OLT SFP module need order separately) |
Payment & Security
Your payment information is processed securely. We do not store credit card details nor have access to your credit card information.