Description
16 downlink GPON ports, 4 GE combination ports, and 2 10G SFP+ ports are available on the 16 port GPON OLT. The height is only 1U, making it simple to install and save space. It can be used for three-in-one broadcasting, video surveillance networks, workplace LANs, and the Internet of Things, among other things.
The 16 port GPON OLT is a small-capacity cassette optical line termination that complies with ITU-T G.988/G.984 and Unicom GPON standards/China Telecom, providing super GPON access capacity, carrier-class dependability, and comprehensive security. Because of the 16 port gpon olt's maintenance, monitoring capabilities and superior management, as well as its flexible network mode and extensive service features, the 10GE OLT can meet long-distance optical fiber access requirements. The 16 port gpon olt can be used in conjunction with the NGBNVIEW network management system to provide consumers with a complete solution at a low GPON OLT pricing. The 10GE OLT is compatible with nearly all ONU brands, including Huawei ONU, ZTE ONT, Fiberhome ONU.
Features
●   1 RU19 inch
●   1+1power redundancy
●   16* fixed GPON port
●   4*GE COMBO port, 2*10GE SFP+ port
●   1*console port
As telecommunications network technologies become more advanced and mature, fiber to the home (FTTH) networks are beginning to replace existing copper cable infrastructure, such as telephone lines and coaxial cables. Generally, FTTH broadband connections consist of two types of systems, called Active Optical Network (AON) and Passive Optical Network (PON). And most FTTH deployments tend to use PON because of its low cost and high performance. As one of the indispensable components of PON, the optical line terminal (OLT) plays a vital role in the performance of the entire network connection. OLT stands for Optical Line Terminal. OLT equipment is an important central office equipment. The OLT includes a central processing unit, passive optical network card, gateway router, and voice gateway upstream card. It can be connected to the front end switch through a network cable and converted into an optical signal.
Specification
               Item

GPON OLT 16PON

Switching Capacity
140Gbps

Forwarding Capacity(Ipv4/Ipv6)

104MPPS

Service Port

16*PON port, 4*GE COMBO port, 2*10GE SFP+ port

Redundancy Design

Dual power supply supports AC110V input, double DC48V input and AC+DC input

Power Supply

AC: input 90~264V 47/63Hz;DC: input -36V~-72V;

Power Consumption

≤110W

Dimensions (Width x Depth x Height)

440mm×44mm×380mm

Weight (Full-Loaded)

≤5kg

Environmental Requirements

Working temperature: -10°C~55°C

Storage temperature: -40°C~70°C

         Relative humidity: 10%~90%, non-condensing
                         Item
                                  GPON OLT 16PON
PON Features
ITU-TG.984.x standardMaximum 20 Km PON transmission distanceaccess 128 terminals for single fiber PONUplink and downlink triple churning encrypted function with 128BitsONU terminal legitimacy certification, report illegal ONU registrationDBA algorithm, the particle is 1Kbit/sStandard OMCI management functionONU batch software upgrade, fixed time upgrade, real time upgradePON port optical power detection
L2 Features
MAC
MAC Black HolePort MAC Limit64K MAC (packet exchange chip cache 2MB, external cache 720 MB )
VLAN
4K VLAN entriesPort-based/MAC-based/protocol/IP subnet-basedQinQ and flexible QinQ (StackedVLAN)VLAN Swap and VLAN RemarkPVLAN to realize port isolation and saving public-vlan resourcesGVRP
Spanning Tree
STP/RSTP/MSTPRemote loop detecting
Port
Bi-directional bandwidth controlStatic link aggregation and LACP(Link Aggregation Control Protocol)Port mirroring
SecurityFeatures
User's Security
Anti-ARP-spoofingAnti-ARP-floodingIP Source Guard create IP+VLAN+MAC+Port bindingPort IsolationMAC address binding to the port and MAC address filteringIEEE 802.1x and AAA/Radius authentication
Device Security
Anti-DOS attack(such as ARP, Synflood, Smurf, ICMP attack), ARPdetection, worm and Msblaster worm attackSSHv2 Secure ShellSNMP v3 encrypted managementSecurity IP login through TelnetHierarchical management and password protection of users
Network Security
User-based MAC and ARP traffic examinationRestrict ARP traffic of each user and force-out user with abnormal ARP trafficDynamic ARP table-based bindingIP+VLAN+MAC+Port bindingL2 to L7 ACL flow filtration mechanism on the 80 bytes of the head of user-defined packetPort-based broadcast/multicast suppression and auto-shutdown risk portURPF to prevent IP address counterfeit and attackDHCP Option82 and PPPoE+ upload user's physical location Plaintext authentication of OSPF, RIPv2 and BGPv4 packets and MD5cryptograph authentication
Service Features
ACL
Standard and extended ACLTime Range ACLFlow classification and flow definition based on source/destination MAC address, VLAN, 802.1p, ToS, DiffServ, source/destination IP(IPv4/IPv6) address, TCP/UDP port number, protocol type, etcpacket filtration of L2~L7 deep to 80 bytes of IP packet head
QoS
Rate-limit to packet sending/receiving speed of port or self-defined flow and provide general flow monitor and two-speed tri-color monitor of self-defined flowPriority remark to port or self-defined flow and provide 802.1P, DSCP priority and RemarkCAR(Committed Access Rate), Traffic Shaping and flow statisticsPacket mirror and redirection of interface and self-defined flowSuper queue scheduler based on port or self-defined flow. Each port/flow supports 8 priority queues and scheduler of SP, WRR andSP+WRR.Congestion avoid mechanism, including Tail-Drop and WRED
IPv4
ARP ProxyDHCP RelayDHCP ServerStatic RoutingRIPv1/v2OSPFv2ECMPPBR
IPv6
ICMPv6ICMPv6 RedirectionDHCPv6ACLv6Dual stack of IPv6 and IPv4
Multicast
IGMPv1/v2/v3IGMPv1/v2/v3 SnoopingIGMP FilterMVR and cross VLAN multicast copyIGMP Fast leaveIGMP ProxyPIM-SM/PIM-DM/PIM-SSMMLDv2/MLDv2 Snooping

Reliability

Loop Protection

ERRP or ERPSLoopback-detection
Link Protection
FlexLink (recover-time <50ms)RSTP/MSTP (recover-time <1s)LACP (recover-time <10ms)BFD
Device Protection
VRRP host backup1+1 power hot backup
Maintenance
Network Maintenance
Port real-time, utilization and transmit/receive statistic based on TelnetRFC3176 sFlow analysisLLDPGPON OMCIRFC 3164 BSD syslog ProtocolPing and Traceroute
Device Management
CLI, Console port, Telnet;SNMPv1/v2/v3RMON (Remote Monitoring)1,2,3,9 groups MIBNTPNGBNView network management
Application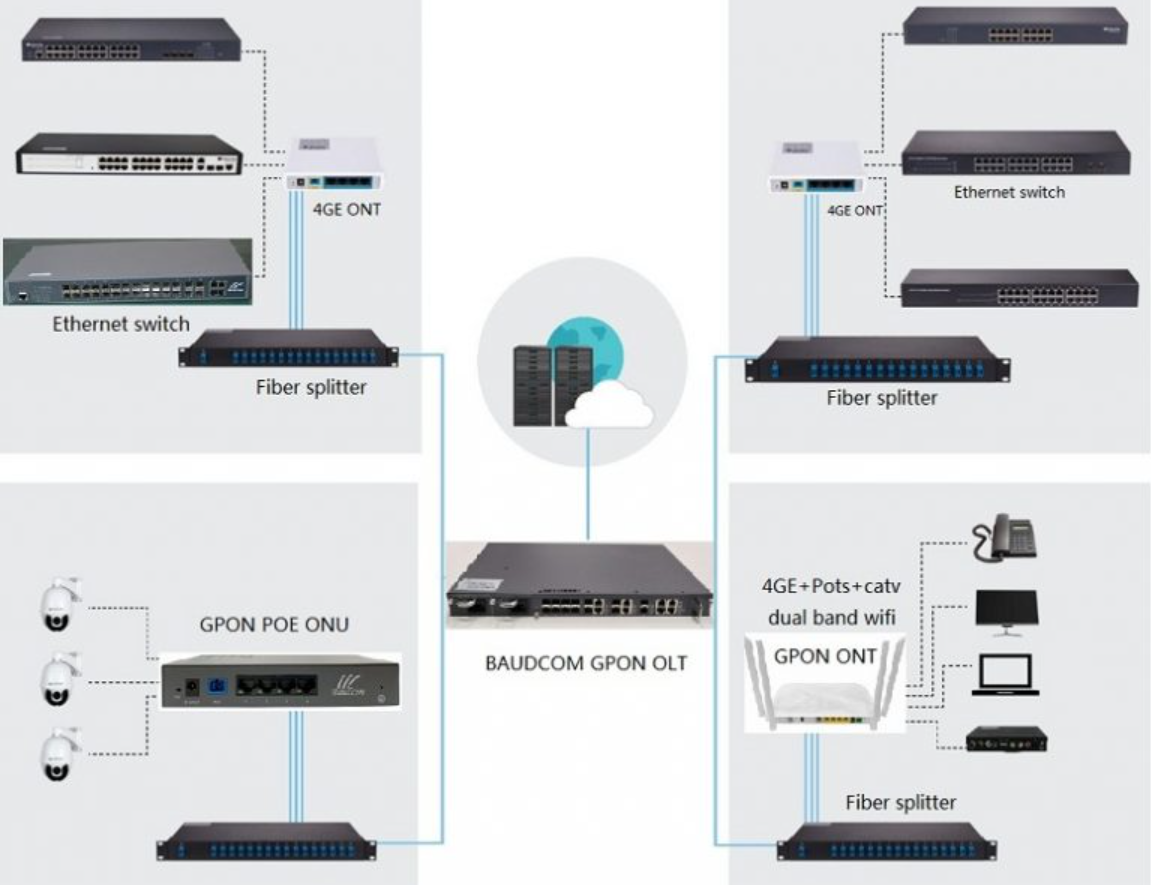 Order information
| Product Model | Descriptions |
| --- | --- |
| BD-OLT-1600GC | 16*PON, 4*GE COMBO, 2*10GE SFP+, double AC110V/DC48V power supply |
Q&A

Question: Can Baudcom GPON OLT 16 Port support IGMP protocol?


Answer: Yes, Baudcom GPON OLT 16 Port supports IGMP protocol.
Payment & Security
Your payment information is processed securely. We do not store credit card details nor have access to your credit card information.