Description
The 8 port GPON OLT has an uplink interface of 8SFP (2*10GE+6*1GE) and 8GE (copper) and eight GPON OLT ports for downlink. Under a 1:128 splitter ratio, the OLT can support 1024 ONUs. The FTTX GPON OLT devices are 19 inch products rack mounted with a 1U height. The FTTX GPON OLT is also a SNMP/Telnet/CLI/WEB management OLT. It is simple to use, adaptable, and convenient. It is suitable for use in a small room setting.
The 8 Port GPON OLT is ideal for "Triple-Play" applications such as VPN, IP Camera, Enterprise LAN, and ICT. The Triple Play application, which is an appropriate FTTx application solution, can support data, VOIP and CATV service. BAUDCOM also offers triple play ONU, CATV transmitter, FWDM, splitter, and fiber cable services. Fiber to the x (FTTx) or fiber in the loop (FIL) is a general term for any broadband network topology. The management OLT uses optical fiber to provide all or part of the local loop for telecommunications last mile.
Specification
Item

BD-OLT-8000GZ

Chassis

Rack
1U 19 inch standard box

1000M

Uplink Port

QTY
16
Copper10/100/1000M auto-negotiation
8
SFP1000M,Duplex(independent)
6
SFP+SFP+ is 10GE(independent)
2

GPON Port

QTY
8
Physical Interface
SFP Slot
Connector Type
Class B+/C+
Max splitting ratio
1:128
Management Ports
1*10/100BASE-T out-band port, 1*CONSOLE port

PON Port Specification

Transmission Distance
20KM
GPON port speed
Upstream 1.244G, Downstream 2.488G
Wavelength
TX 1490nm, RX 1310nm
Connector
SC/PC
Fiber Type
9/125μm SMF
TX Power
+1~+5dBm
Rx Sensitivity
-28dBm
Saturation Optical Power
-8dBm
Management Mode
SNMP, Telnet ,CLI,WEB
Management Function
Fan Group Detecting;Port Status monitoring and configuration management;Layer2 switch configuration such as VLAN, Trunk, RSTP,IGMP,QOS, etc;GPON management function: DBA,ONU authorization, ACL, QOS, etc;Online ONU configuration and management;User management;Alarm management.
Layer2 Switch
16K Mac addressSupport 4096 VLANs;Support port VLAN and protocol VLAN;Support VLAN tag/Un-tag ,VLAN transparent transmission;Support VLAN translation and QinQ;Support storm control based on portSupport port isolationSupport port rate limitationSupport 802.1D and 802.1W;Support static LACP;QOS based on port, VID, TOS and MAC address;Access control list;IEEE802.x flow control;Port stability statistic and monitoring.
Multicast
IGMP snooping256 IP Multicast Groups;
DHCP
DHCP serverDHCP relayDHCP snooping
Layer 3 Route
Arp proxyStatic route1024 hardware Host Routes;512 hardware Subnet Routes;
GPON Function
Tcont dba;Gemport trafficIn compliant with ITUT984.x standard;Up to 20KM transmission Distance;Support data encryption, multi-cast, port VLAN, separation, RSTP, etc;Support ONU auto-discovery/link detection/remote upgrade of software;Support VLAN division and user separation to avoid broadcast storm;Support power-off alarm function, easy for link problem detection;Support broadcasting storm resistance function;Support port isolation between different ports;Support ACL and SNMP to configure data packet filter flexibly;Specialized design for system breakdown prevention to maintain stable system;Support RSTP,IGMP Proxy.
Dimension(L*W*H)
442mm*200mm*43.6mm
Weight
3.1kg
Power Supply
220VAC
AC:90~264V, 47/63Hz
Double Power ModuleHot Backup
Power Consumption
25W
Operating Environment
Working Temperature
-10~+55℃
Storage Temperature
-40~+85℃
Relative Humidity
5~90%(non-conditioning)
Application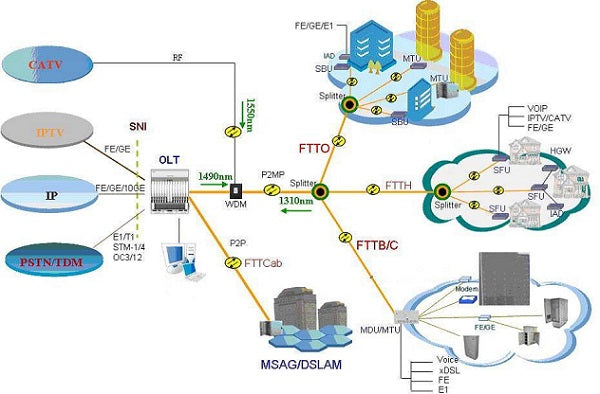 Order information
Order information
| Product Model | Descriptions |
| --- | --- |
| BD-OLT-8000GZ | 8PON GPON OLT 1U , 8 GE electrical uplink ports, 8SFP(6*1GE+2*10GE) optical ports, 220VAC or -48VDC power, SNMP, Telnet ,CLI,WEB management |
Q&A
Question1: Can you tell us which make and model SoC (chip)is your 8Port GPON OLT using?
Answer: The GPON OLT chip solution is Broadcom chip,the detail model is ZX279200.
Question2: Can the 8PON GPON OLT support OSPF and RIP protocol?
Answer: Yes, the GPON OLT can support.
Question3: What the switching rate and forwarding rate.?
Answer: The GPON OLT's main switching parameter as below:
backplane: 128Gbps
throughput: 65.472Mpps
switching: 44Gbps
Question4: Why can I not load the Baudcom GPON OLT after input IP address 192.168.8.100 in browser?
Answer: Please add https://  before the IP address.
Question5: I try to access via SSH to the GPON OLT. What is the ENABLE password ?
Answer: You can manage and mornitor our GPON OLT via EMS management or WEB management or Console/SSH/Telnet. The account/password as below:
admin/admin    (for old version)
admin/Xpon@Olt9417#   (for new version)
Question6: I have a OLT8 I just did a firmware upgrade to 2.1.4 and my default username and password is not working anymore (admin/admin)
Answer: After the GPON OLT firmware, the account and password are updated as belows:
admin
Xpon@Olt9417#
Question7: Why I can not configure 1000M on uplink port?


Answer: The 8PON GPON OLT do not support fixed 1000Mbps speed configuration, you configure it as AUTO will be OK. Our OLT will automatically adjust its speed.
Question8: Can Baudcom 8 Port GPON OLT support IGMP protocol?
Answer: Yes, Baudcom 8 Port GPON OLT supports IGMP protocol.
Payment & Security
Your payment information is processed securely. We do not store credit card details nor have access to your credit card information.