Description
Features
● Hot pluggable
● Support 9.95Gb/s to 11.1Gb/s bit rates
● Below 3.5W power dissipation
● XFP MSA package with duplex LC connector
● Digital Diagnostic Monitor Interface
● Very low EMI and excellent ESD protection
● Cooled 1550nm EML laser and PIN ROSA
● Up to 40KM for single mode fiber
● operating temperature range 0°C to 70°C
● No reference clock requirement
Applications
● 10G BASE-ER/EW Ethernet
● SONET OC-192/SDH STM-64 line card
● Other optical links
Standard
● XFP MSA compliant
● IEEE802.3ae-2002 compliant
● ITU-T G.959 and G.691 compliant
● GR-253-CORE compliant
● RoHS compliant
Description
● 10G 1550nm XFP transceivers are designed for 10G Ethernet 10G BASE-ER/EW per 802.3ae and 10G SONET OC-192/SDH STM-64, and it can support data-rate from 9.953Gb/s to 11.1Gb/s.Digital diagnostics are available via I2C interface as specified in the XFP MSA.
● The transceiver designs are optimized for high performance and cost effective to supply customers the best solutions for datacom and telecom applications.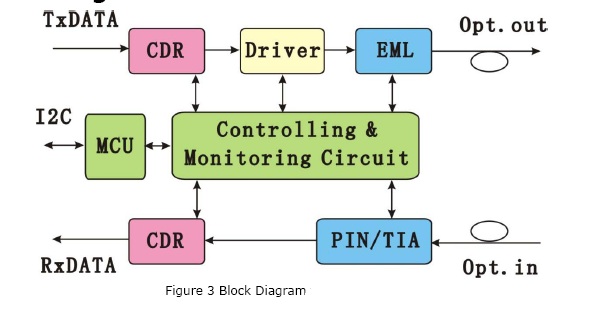 Optical Characteristics (TOP = 0 to 70 °C)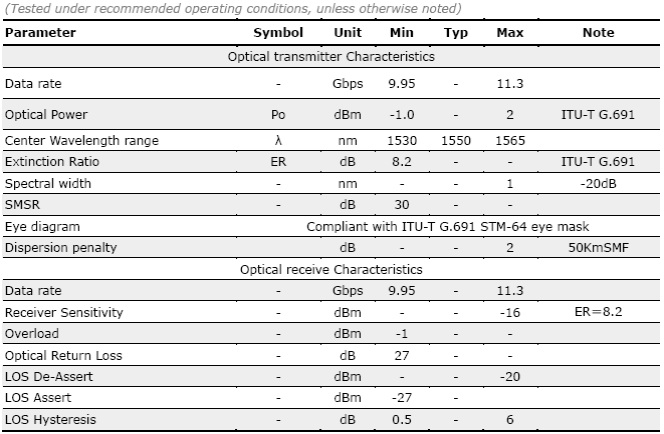 Typical Interface Circuit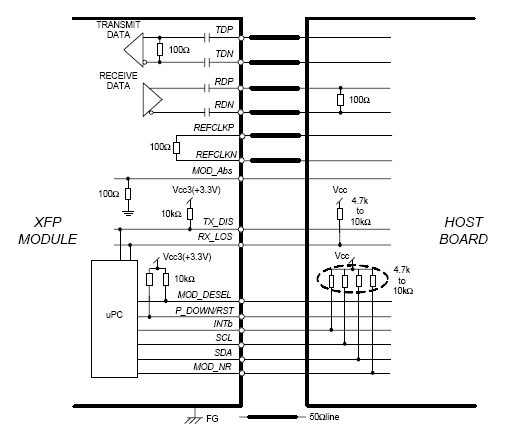 Order Information
Product Model
Descriptions
BD-XFP-01
10G

XFP module

, LC, 10KM  1310nm, dual fiber, 0C ~ +70C
BD-XFP-04
10G XFP module, LC, 40KM, 1550nm, dual fiber, 0C ~ +70C
BD-XFP-08

10G XFP module, LC, 80KM, 1550nm, dual fiber, 0C ~ +70C
Payment & Security
Your payment information is processed securely. We do not store credit card details nor have access to your credit card information.