Description
Overview

 16voice phone fiber multiplexer is point to point fiber transmitting equipment, which is designed on large scale integrated circuit, realizes 1~4 E1 circuit, 1~4channels 10/100/1000M Ethernet, 16 channel voice (FXO/FXS) and 1~2 channel RS232. Its merits include complete warning function, high integration, low consumption, stable performance and convenient usage. In the 16channel voices, the FXS and FXO can be combinated freely, for example,8*FXS+8*FXO.
Feature
Provides1~ 4 channel E1/ G.703 for option;
provides 1~4 channel

 

1000M

 

(line) Ethernet ports for option;
provides 16 channel voice port, FXO and FXS for option;
provides1~2 channel RS232, rate supports 300-15200 bps for option;
Ethernet port 10/100/1000M, full/half duplex auto-adaptable and supports VLAN;
Ethernet port supports AUTO-MDIX (twisted cable and straight cable auto-adaptable);
1-16 channel voice connection, supports calling indication;
Configuration: point to point;
Voice port supports O port and S port, O port connects switch and S port connects user's phone;
Optical interface supports SC/FC interface and supports single fiber interface
Power can support DC48V or AC220V or AC+DC

                     16voice+4GE fiber multiplexer back panel picture

Optical interface    
Optical wavelength: single mode 1310nm/1550nm
Fiber: single fiber or double fiber for option
Transmitting consumption: -9dBm/-5dBm
Transmission range: 0-50Km/120Km for option
Optical interface: SC/FC
Receiving and dispatching module: >-6dBm
Optical receiver receiving sensitivity <-36 dBm (BER<10-11)
Fiber circuit code: NRZ code
FXS:
Alarm voltage:     75V
Alarmf requency:    25HZ
2 line input impedance:  600Ω (hanging off)
Wastage:         40db
 FXO:
Alarm detecting voltage:  35V
Alarm detecting frequency: 17HZ-60HZ
2 line input impedance:    600Ω (hanging off)
Wastage:               40db
10/100/1000M Base-T Ethernet Interface
Rate: 10/100/1000M, full/duplex auto-negotiation
Protocol: Support IEEE 802.3, IEEE 802.1Q (VLAN)
MAC Address Entiries: 4096 Entiries
Total Memory Sizes: 64MBits SDRAM
Physical interface: RJ45, support AUTO-MDIX
E1 Interface
Interface standard: Conforms to G.703 standard
Interface rate: N×64Kbps, N:1~32
Vibration characteristic: Satisfies G.742 and G.823 standard
Transmission capacity: 1*E1
Clock type: internal-clock, route clock
Connecter: BNC (75 Ω
Interface impedance: 75Ω(non- balanced)
RS232 port
Rate:  300-115.2Kbps auto-adaptable (Asynchronous)
Interface characteristic:  satisfies ITU-T V.24 standard
Connector:RJ45
Dimension           
 19inch 1U high rack mount 433mm(L)x238mm(W)x44mm(H)
Environment condition                  
Operating temperature:  0C~+50 C        
Storage temperature:   -20 C~+70 C
Relative temperature:95% (uncondensed)
Power supply                        
working voltage range wide, good        
anti-disturb and Isolation, work stable     
option I – DC-48V,range DC-36V~DC-72C   
option II – AC220V,range AC90V~AC260V
Power Consumption:    <=3 Watts
Application: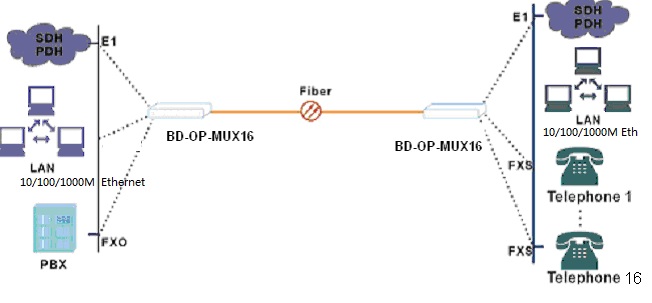 Questions and Answers:
Question1: Just to confirm again, can the voice phone fiber multiplexer equipment have the following specification,
 FXO Port
Ringing Voltage Range:- 90V-140Vrms
2. Voltage to A B Leg: Must be able to handle Exchange voltage of A-line -48VDC, B-line 0VDC.
FXS Port
Line Voltage A-B: -48VDC
 Order Information
| Product Model | Descriptions |
| --- | --- |
| BD-OP-MUX16-GE | Voice phone fiber multiplexer, 16 POTs voice (FXS or FXO), 4*10/100/1000M Ethernet, dual core, SM20km, power AC220V or DC 48V |
Payment & Security
Your payment information is processed securely. We do not store credit card details nor have access to your credit card information.