Description
This Gpon onu modem (optical network unit)is designed for fulfilling FTTH and triple play service demand of fixed network operators or cable operators. It meets telecom operators FTTO (office), FTTD (Desk), FTTH (Home) broadband speed, SOHO broadband access, video surveillance and other requirements. The 1ge gpon onu is based on the mature stable, cost-effective Gigabit GPON technology, and has high ratio of performance to price,and the technology of 802.11n WiFi (2T2R), the technology of Layer 2/3, integrated CATV and configuration flexibility. They are highly reliable and easy to maintain, with guaranteed QoS for different service, and fully compliant with technical regulations such as ITUT984.x and technical requirement of GPON Equipment from China Telecom.
The 1ge catv gpon onu has 1 PON port ,3* 10/100BASE-T ports,1*10/100/1000 BASE-T ports, 1port CATV and support Wi-Fi. The 1ge gpon onu in strong signal and Super penetration. It's the good 1ge 3fe wifi gpon onu that with CATV.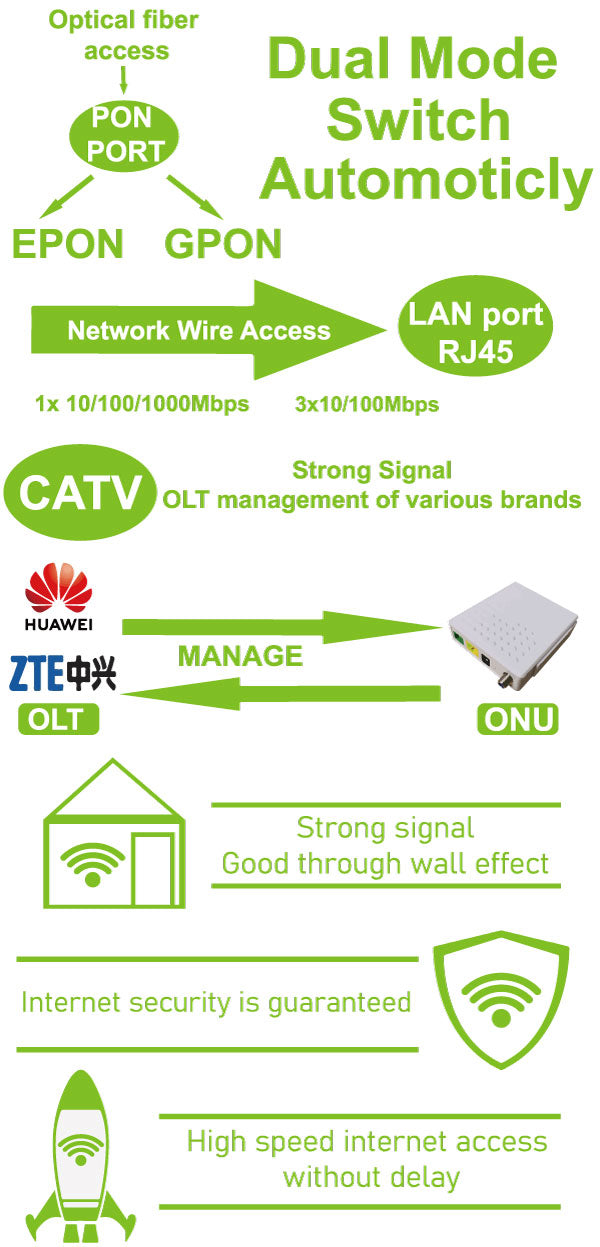 Specification for 1ge 3 fe wifi catv gpon onu
Parameter Name

Hardware Parameter

PON

GPON, SC symmetric 1.25Gbps, single-mode/single-fiber

PON Port Type

BOSA

Wavelength

Tx 1310nm, Rx 1490nm

Sensitivity

<-27dBm(PX20+)

Overload

> -3dBm(PX20+)

Optical Type

SC/PC

LAN Interface

1*10/100/1000Mbps + 3*10/100Mbps

Auto adaptive Ethernet interfaces, Full/Half Duplex, RJ45 connector

Wireless

IEEE802.11b/g/n, 300Mbps, 2T2R , 2 External

RF interface

1 CATV output interface.

Indicators

8, For POWER、LOS、REG、LAN、WiFi

Power input

220V AC,50HZ

Ambient temperature

-20 ~ +55℃

Ambient humidity

10% ~ 90%(non-condensing)

Store temperature

-30 ~ +60℃

Store humidity

10% ~ 90%(non-condensing)

Dimension(L x W x H)

185mm×122mm×33mm

Power

12V, 1.5A

Power Consumption

≤10W

Weight ( No  Power Adapter)

About 300g
 Function of 1ge 3 fe wifi catv gpon onu
Function

Parameter

Internet connection

Bridge / Routing

LAN

Support Port rate limiting

Support Loop detection

Support Flow control

Support Storm control

VLAN

Support VLAN tag mode

Support VLAN transparent mode

Support VLAN trunk mode

Support VLAN translation mode

Support VLAN QinQ mode

Multicast

Support IGMPv1/v2/v3

Support IGMP Proxy and MLD Proxy

Support IGMP Snooping and MLD Snooping

L3

Support IPv4、IPv6 and IPv4/IPv6 dual stack

Support WAN DHCP/PPPOE/Static IP

Support Static Route

Support NAT

Support Port forwarding

Support DHCP server

Wireless

Support 802.11b/g/n and Mixed mode

Support No-auth、WEP、WPA-PSK and WPA2-PSK function

with AES、TKIP encryption

Security

Support Firewall

Support Mac filter

Support ACL

Support URL filter

QoS

Support 4 queues

Support SP and WRR

Support 802.1P

Support DSCP

Management

Support CTC OAM 2.0 and 2.1

Support WEB

Support TELNET

Support TR069
Application of 1ge 3 fe wifi catv gpon onu
n  Typical Solution:FTTO(Office)、 FTTB(Building)、FTTH(Home)
n  Typical Business:INTERNET、IPTV、IP Camera 、WIFI 、CATV etc
Q&A
Question1: Can Baudcom ONT/ONU support IPv6?
Answer: Yes, Baudcom ONT/ONU supports IPv6.
Question2: Does Baudcom ONT/ONU offer OEM service?
Answer: Yes, Baudcom ONT/ONU offers OEM service and can print logos according to customers' design.
Question3: Does TP-Link OLT have limitation on your ONU?
Answer: No, Baudcom ONU can connect TP-Link OLT easily.
Ordering Information
| | | |
| --- | --- | --- |
| Product Name | Product Model | Descriptions |
| 3FE+1GE+CATV Wi-Fi type GPON ONU | BD-ONU-804RWT-H |  3*10/100M and 1*10/100/1000M Ethernet interface, 1 GPON interface, support Wi-Fi function, external power supply adapter |
Payment & Security
Your payment information is processed securely. We do not store credit card details nor have access to your credit card information.