Description
G.703 impedance
 matching 
balun
 solve the mismatch between UTP and coaxial cable. The baluns can be used for internal network connectivity T1/E1/CPE network transmission equipment and other applications.
The 24ports balun matches 24 sets of dual 75ohm coax connections to 120ohm RJ45 connections. This feature allows network & datacom equipment manufacturers who are selling equipment with only 120ohm interface to offer their equipment to G.703 countries using 75ohm connections.
The balun matches not only signal impedance ,but also the pulse shapes of the signals according ITU-T G.703 standard. The 24port balun (BIC-C24) mounts in a standard 19 inch(48.3cm) rack, occupies only 1U of rack.
Features:
   ●   Data Rates to 2.048 Mbps
   ●   75 Ohm Dual Coax (BNC) to 120 Ohm Twisted Pair (RJ45)
   ●   Bi-Directional Signal Conversion
   ●   1U high enclosed chasiss
   ●   mounts in a standard 19 inch(48.3cm) rack
   ●   No AC Power or Batteries Needed
   ●   24 Female Coax BNC Connectors Available
Dimension                  
   ●   483mm(L)
   ●   86mm(W)
   ●   44mm(H)
G.703 Interface
   ●   BNC connector 75OHM
   ●   RJ45 connector 120OHM as 1 2 TX,4 5 RX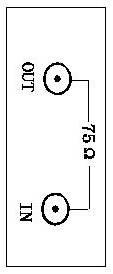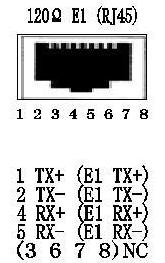 Front panel 75ohm connector       120ohm RJ45 pins definition
Application

Payment & Security
Your payment information is processed securely. We do not store credit card details nor have access to your credit card information.