Description
BD-2E1-2ETH-CON is multiservice node ring network system equipment is the highly integrated access devices with the bandwidth share function. The 2E1 device can realize two RS-232/485 and 2 Ethernet over 2 channel E1 aggregation transmission. The Ethernet interfaces in different nodes can consist a shared Ethernet switch.
The device can be used as Point to point application or used with central multi-service device as chain network or ring network. The 2E1 convergency device can meet customers' kinds application by flexible, economical, maintenance application.It can be widely used in a variety of environments capture the telecommunications, electricity, water, finance, transportation, mining, public security and other data transmission services.
PRODUCT CHARACTERISTIC
Based on self-copyright IC.
The device provide two channel E1 interface, two Ethernet and two RS232/485.
Ethernet port 10/100M half/full duplex auto-negociation.
RJ45 interface supports AUTO-MDIX.
The device can be used as point to point or ring network or chain network.
BNC 75-ohm dual coax and RJ45 120-ohm twisted-pair G.703 connections provided, and support 75ohm/120ohm adapt ;
Support Web management.
Power can support AC or DC or double power.
Specification
E1 Interface
Line Rate: 2.048Mbps±50ppm
Line Code : HDB3
Interface Standard: ITU-T G.703
E1 Impedance: 75Ω(unbalance) and 120Ω(balance)
         Connections : dual coax BNC and 120-ohm twisted-pair (RJ45)
        Jitter tolerance : finer than G.742 and G.823
 Ethernet 10/100Base-T Interface
Rate: 10/100M, full/duplex auto-negotiation
Protocol: Support IEEE 802.3
MAC Address Entiries: 4096 Entiries
Total Memory Sizes: 64MBits SDRAM
Physical interface: RJ45, support AUTO-MDIX

Power supply                        
working voltage range wide, good
anti-disturb and Isolation, work stable
option I – DC-48V,range DC-36V~DC-72C   
option II – AC220V,range AC165V~AC240V
Power Consumption:    <=3 Watts
Environment condition                  
Operating temperature:  0C~+50 C
Storage temperature:   -20 C~+70 C
Relative temperature:95% (uncondensed)
Dimension                  
210mm(L)
140mm(W)
30mm(H)
Application
Application1:

 Application 2,point to multi-point application
                        LAN1 LAN2 LAN3 can communicate each other.

Application3: Ring network application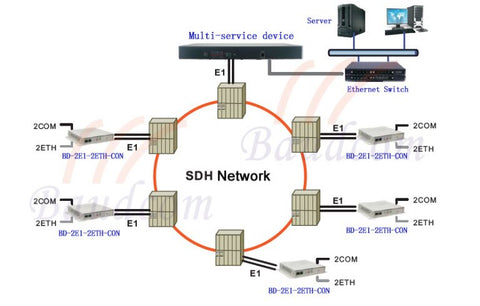 Order information
| Product Model | Descriptions |
| --- | --- |
| BD-2E1-2ETH-CON | 2*10/100M ethernet to 2E1 convergency converter,power AC 220V or DC48V |
Payment & Security
Your payment information is processed securely. We do not store credit card details nor have access to your credit card information.