Description
1. Overview
2M Transmission Analyzer is a multi-functional and full- featured digital transmission system test device, designed for the installation test, engineering check and acceptance, daily maintenance of digital networks, mainly performing channel test, alarm analysis, fault finding and signalling analysis. In addition, this instrument further provides various protocol converters with one-way and bi-directional bit error test function. These capabilities make it ideal for field use.
1)  2M measurement
l75Ω and 120Ω line interfaces
lHDB3 and AMI line codes
Out-of-service 2Mb/s, N×64kb/s BER testing
lIn-service framed and unframed double-channel testing
l"PCM simulator" mode testing
lFrame data control and monitoring
lTimeslot activity monitoring, FAS, N-FAS, TS16MFO analysis
lBuilt-in 64kb/s tone channel listen capability
lCAS and CCS signaling generation and monitoring
lExtensive error and alarm generation
lVF tone generation and measurement
lLevel measurement
Frequency and offset measurement
lClock slip measurement
lUp to ±999ppm transmit clock deviation
lClock source: Internal, Interface or External 2M clock/signal
lReal-time transmit circuit open/short indication
2)  Protocol converter measurement
l2M-Datacom SYNC 64k or N×64kb/s BER testing
2M-G.703 CO SYNC 64kb/s BER testing
lFrequency and offset measurement
lHandshaking signals monitoring
l2M frame data and alarm monitoring
3)  Other functions
lReal-time clock
lTest pattern: PRBS, Fixed Code and 16-BIT User Word
lError injection: Single and Fixed Rate
lManual and auto-timer measurement
2. Main Interface
You can enter Main Interface by performing below operation
⑴ Power On
⑵ Press Escape Key once or more times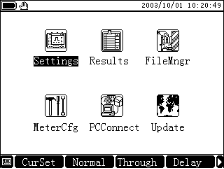 Payment & Security
Your payment information is processed securely. We do not store credit card details nor have access to your credit card information.