Description
DESCRIPTION: 
    The 32 Channel voice multiplexer provide a method of multiplexing up to 30 analog (POTS) channels over a single pair of multimode or single mode fibers. The voice fiber multiplexer solves the problem of limited available fiber, reduces equipment space and lowers overall equipment costs.
    In addition to voice(POTS), the voice multiplexer provides four 10/100 Base-T Ethernet ports and four RS-232 ports and four channel E1 ports. All ports operate simultaneously over the fiber optic cable, and may be used with leased lines to build up private networks and private telephone networks.
     Its merits include complete warning function, high integration, low consumption,stable performance and convenient usage. 
     The 30voice(FXS/FXO) phone over fiber multiplexer can be managed by SNMP management,user can monitor kinds of devices' operation status easily.The device can support AC220V(110V) or DC48V power,or duoble power.
CHARACTERISTIC:
 provides 4 channel E1/ G.703 for option;
 provides 4 channel 100M (liner) Ethernet ports for option;
 provides 30 channel voice port, FXO and FXS for option;
 provides4 channel RS232, rate supports 300-15200 bps for option;
 Ethernet port 10/100M, full/half duplex auto-adaptable and supports VLAN;
 Ethernet port supports AUTO-MDIX (twisted cable and straight cable auto-adaptable);
 1-30 channel voice connection, supports calling indication;
 Voice port supports O port and S port, O port connects switch and S port connects user's phone;
 Optical interface supports SC/FC interface and supports single fiber interface
 Support SNMP network management (optional)
Optical interface
Optical wavelength: single mode 1310nm/1550nm
Fiber: single fiber or double fiber for option
Transmitting consumption: -9dBm/-5dBm
Transmission range: 0-50Km/120Km for option
Optical connector: SC/FC/ST optional
Receiving and dispatching module: >-6dBm
Optical receiver receiving sensitivity <-36 dBm (BER<10-11)
Fiber circuit code: NRZ code

Ethernet (10/100Base-T) Interface
Rate: 10/100M, full/duplex auto-negotiation
Protocol: Support IEEE 802.3, IEEE 802.1Q (VLAN)
MAC Address Entiries: 4096 Entiries
Total Memory Sizes: 64MBits SDRAM
Physical interface: RJ45, support AUTO-MDIX
E1 Interface
Interface standard: Conforms to G.703 standard
Interface rate: N×64Kbps, N:1~32
Vibration characteristic: Satisfies G.742 and G.823 standard
Transmission capacity: 1*E1
Clock type: internal-clock, route clock
Connecter: BNC (75 Ω), RJ45 (120 Ω)
Interface impedance: 75Ω (non- balanced), 120Ω (balanced)
Power supply
working voltage range wide, good
anti-disturb and Isolation, work stable
option I – DC-48V,range DC-36V~DC-72C
option II – AC220V,range AC165V~AC240V
Power Consumption: <=10 Watts

environment condition
Operating temperature: 0C~+50 C
Storage temperature: -20 C~+70 C
Relative temperature:95% (uncondensed)

Dimension(19inch rackmount)
 433mm(L)x138mm(W)x44mm(H)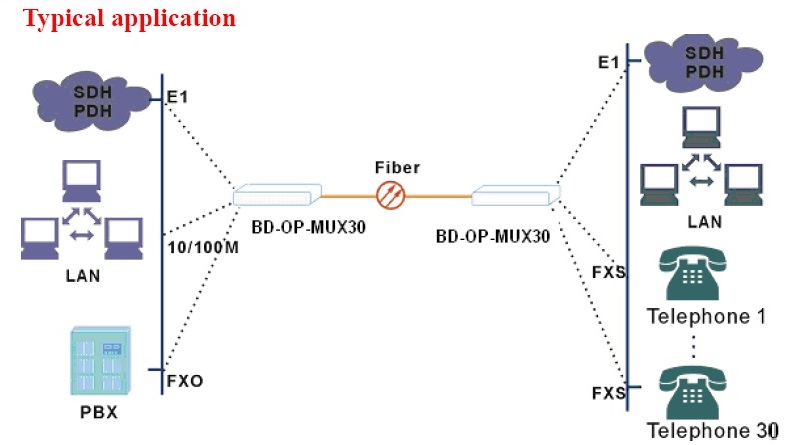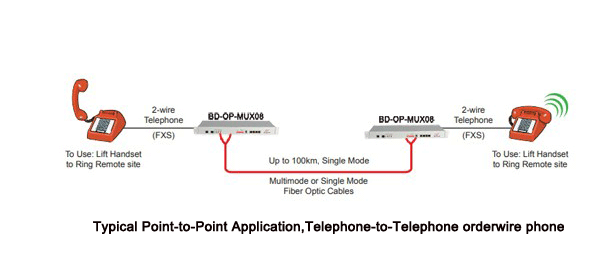 The 30voice fiber multiplexer SNMP network management screen: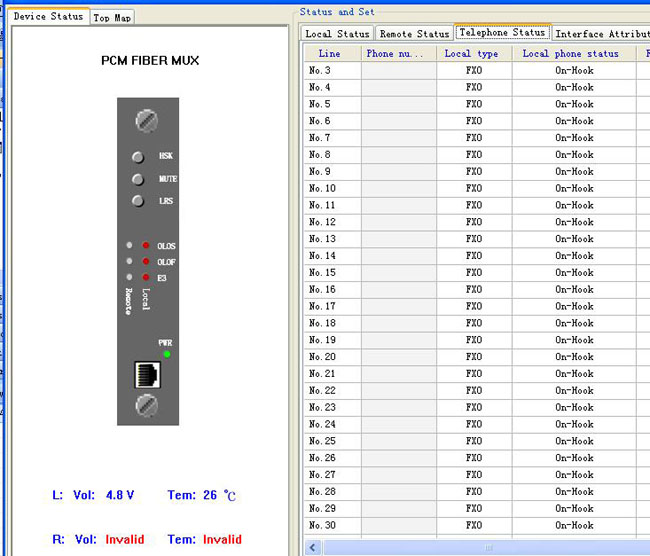 Related Link:

FAQ:
Question1: Can Baudcom's phone over fiber multiplexer support FAX transmission?
Answer: Yes, the voice phone fiber mux device can support voice(FXS/FXO) or FAX over fiber transmission. The voice fiber mux device also can support voice transmission with ethernet data service.
Question2: Can Baudcom's phone over fiber multiplexer support ADSL transmission?
Answer: For the modulation is different, the voice phone fiber multiplexer can not support ADSL service.
Question3: What is maximum phone line length between telephone and the voice fiber multiplexer?
Answer: The device can support maximum line length is 1KM.  
Question4: Do Baudcom's POTs phone fiber multiplexer support caller ID display?
Answer: The POTs phone fiber multiplexer device support caller ID display function,phone receiver can get the caller ID information.
Questio5:  Can it support 4 wires audio channel (TX and RX), instead of FXO/FXS? Moreover,may I know the audio's frequency response supported in the voice mux device?
Answer: The POTs fiber multiplexer can support 2wire or 4wire E&M, the audio's response frequency is 20-7k.

Questio6:  Can the analog phone fiber multiplexer support the payphone (coin phone)?
Answer: The payphone have two types,one is reverse polarity charge payphone,another is pulse charging payphone.The reverse polarity charge can be supported.
Questio7:  Can the POTs fiber multiplexer support the stereo audio?
Answer: Yes,the 30channel POTs fiber multiplexer can support the stereo audio.When you place the order,please let us know that you need stereo audio,we will specially make the audio fiber multiplexer for you.
Order information
30 channel voice(POTS/FXS)+ETH over E1 multiplexer,30 voice over E1,FXS or FXO,power AC220V or DC48V
Payment & Security
Your payment information is processed securely. We do not store credit card details nor have access to your credit card information.