Description
Overview:
Analog Gateway/IPPBX locates at the interface between PSTN and IP to achieve the conversion between FXO/FXS and VoIP SIP, meanwhile complete the media stream transformation between the bearer channel of PSTN and IP.
Application:
Used for IPCC, IP Dispatch, Unify Communication, VoIP network, operators, and so on.
Specification:
Signaling: SS7, PRI, R2, CAS, Q.SIG, V5.2, and DPNSS;
 VoIP Protocol: SIP and H.248;
 Codec: G.711 U-Law and A-Law, G.711 Appendix 1, G.723.1 and G.723.1 Annex A, G.729 Annex A and Annex B, G.726-16,G.726-32,GSM,GSM-EFR,ARM,ARM-WB, ILBC;
 Fax Protocol: T30, T38, pass through;
 Network Protocol: IP, NAT, ICMP, ARP, HTTP, BOOTP, FTP, TFTP, DHCP, PPPOE, SNMP, Diff-Serv;
 Advanced Voice Processing Technology: Voice Activity Detection (VAD), Comfort Noise Generation (CNG), Echo Cancellation, DTMF, Caller ID, and Flexible input/output Gain Control.
Physical Capacity and Specification:
Item

BD-VOIP-4FXS/FXO

Analog fxs/fxo Port

4FXO\FXS

E1 port (PCM)

0

VOIP IP Channels

4

SIP Subscribers

100

Ethernet Interface

2 (10/100/1000M Base-T

CONSOLE

1 (RS232 port)

SIP Compatibility

CISCO, Siemens, AVAYA, Huawei, ZTE, etc.

Input voltage

AC 110-240V

Power

15W

Telephone line transmission distance

5KM

Machine Dimension

240mm*145mm*25mm

 

Weight

2KG

Weight Work Environment

0℃~50℃, Less 80%
Application Topology:
1.   Basic application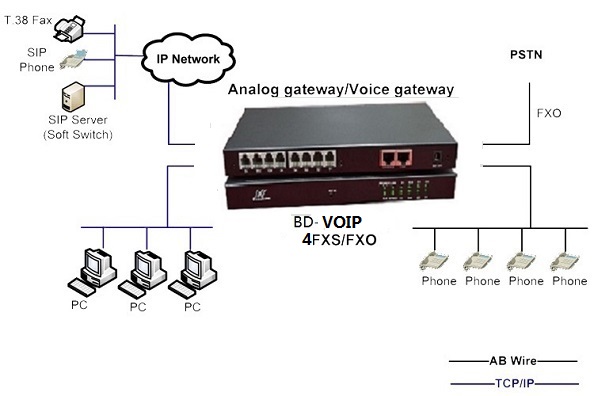 2.   Connection for two different places/offices via FXS VoIP Gateway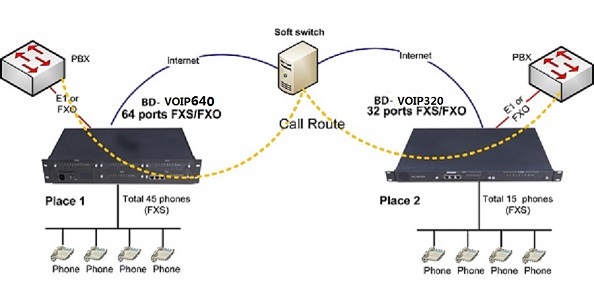 3.   Function and Features of IPPBX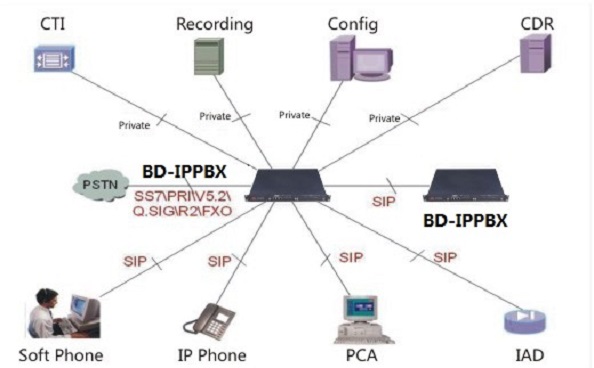 4.   Solutions for IP call center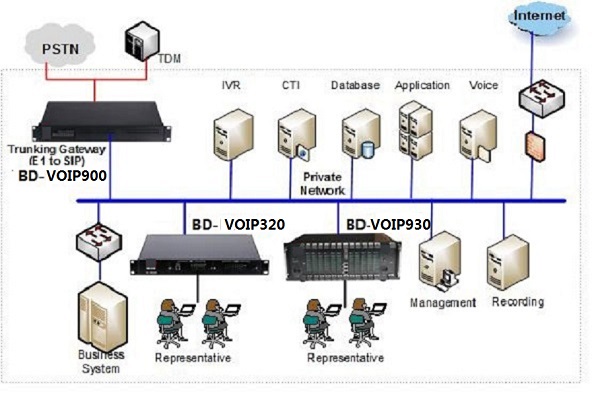 5.   Example Application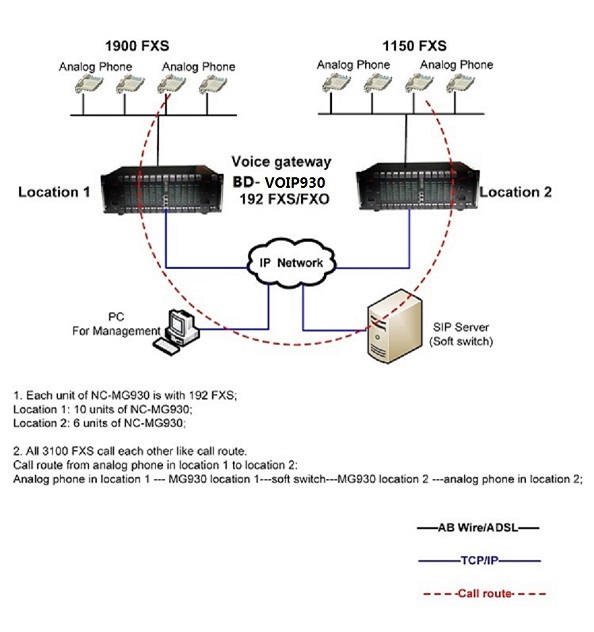 Order Information
| Product Model | Descriptions |
| --- | --- |
| BD-VOIP-4FXO | 4FXO+FXS VOIP Gateway, power AC220V |
Payment & Security
Your payment information is processed securely. We do not store credit card details nor have access to your credit card information.