Description
Product function: transmit10/100Base-T Ethernet electrical signal through fiber, realize TX/FX converter
Features:
4 UTP port,1 fiber port;
Conforms to IEEE802.3,IEEE802.3u (10Base-T,100Base-TX,100BaseT-FX) international standard;
support single fiber or dual fiber optical port;
brings 1M buffer, supports 2KMAC address;
isolates network conflict and broadcasting package effectively, has the function of preventing broadcasting storm;
supports 802.1Q and 16 groups of VLAN;
single-mode connection:transmitting range can reach 120 kilometers.
support both 10/100M full/half duplex adapt and compulsive set 10M,100M,full duplex, half duplex, then convenient to connect CPE and protect previous invest when network upgrades;
Specification
Product parameter:
Optical interface: SC/FC
Ethernet interface: RJ-45 (coaxial twisted pair)
Support IEEE802.3 10 Base-T, IEEE802.3u 100Base-TX and 100Base-FX
Ethernet connector:
10/100Base-TX: UTP  RJ45 connector
100Base-FX:FC,ST,SC connector
Cable type: non-shielded 5 class cable Cat.5UTP, can transmit 100 meters
Optical fiber category:
single-mode 8.3/125, 8.7/125, 9/125, 10/125um,transmit distance20km~120km
multi-mode 50/125, 62.5/125, 100/140um, transmit distance 0~2km
environment condition                               Dimension 
Operating temperature:  0C~+50 C            210(W) × 140 (L) x 30(H) mm
Storage temperature:   -20 C~+70 C
Relative temperature:95% (uncondensed)
Power supply                                                 
working voltage range wide, good            
anti-disturb and Isolation, work stable        
option I – AC220V,range AC90V~AC240V
Application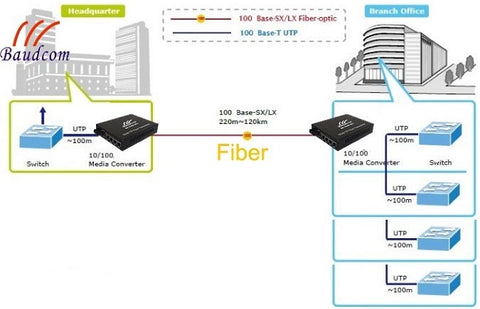 Order information
| Product Model | Descriptions |
| --- | --- |
| BD-100M-4RJ-20 | 4*10/100M ethernet media converter, dual fiber, 20km,SC connector, power AC 220V |
Payment & Security
Your payment information is processed securely. We do not store credit card details nor have access to your credit card information.