Description
OVERVIEW
BD-S1108FSI is an industrial managed Ethernet switch self-independently develop,with 8*100/1000M adaptive Ethernet ports +2*100/1000M uplink combo ports, It is designed for industrial automation, coal mine monitoring and other industry data communication. BD-S1108FSI managed industrial Ethernet switch can be used to set up a fast recovery self-healing ring network on any port. The self-healing time is less than 50ms, which provides a powerful guarantee for users' network security. Its wide temperature working temperature range and port anti-surge design are especially suitable for large-flow real-time outdoor environment, which can be widely used in rail transit, electric power, water conservancy, petrochemical, industrial control, electric police bayonet, port and other environments. Industry and occasions with strict requirements.
BD-S1108FSI industrial managed Ethernet switch uses a web-based network management platform to provide rich network management functions, including port-based VLAN, 802.1Q-based VLAN, QOS, IGMP Snooping, RSTP, broadcast storm suppression, port aggregation, and port mirroring. , port status management, SNMP, NTP time, etc.
FEATURE
  100Mbps access,Gigabit combo uplink
◇  All series supports "100M Ethernet port + gigabit Ethernet /fiber port" combination, which enables users to flexibly build networking to meet the needs of various scenarios.
◇  Support non-blocking wire speed forwarding
◇  Support full duplex based on IEEE802.3x and half duplex based on backpressure .
  Strong Business Processing Capability
◇  Support IEEE 802.1Q VLAN, users can flexibly divide VLAN according to needs, and support QinQ configuration.
◇  Support QoS, support port based, 802.1P based and DSCP based three priority modes and Equ, SP, WRR, SP+WRR four queue scheduling algorithms.
◇  ACL supports the filtering of data packets by configuring matching rules, processing operations and time permissions, and provides a flexible access control strategy.
◇  Support IGMP V1/V2 multicast protocol and support IGMP Snooping to meet the multi terminal HD video surveillance and video conference access requirements.
◇  Support STP/RSTP/MSTP production tree protocol, eliminates two layers of loops, and realizes link backup.
◇  Support static convergence and dynamic convergence, effectively increases link bandwidth, achieves load balancing, link backup, and improves link reliability.
  Complete Safety Protection Mechanism
◇  Support 802.1X authentication, provide authentication function for LAN computer, and control the authorized status of controlled port according to the result of authentication.
◇  Support port isolation
◇  Support port broadcast storm suppression
◇  Support port +MAC binding, IP+MAC+ port binding function
  The Equipment Is Stable And Reliable
◇  The host has low power consumption, no fan mute design, aluminum alloy metal shell, excellent heat dissipation, and ensure stable operation of products.
◇  The equipment fully meets the requirements of CE, FCC and RoHS safety regulations, and is safe and reliable.
◇ The user can easily understand the working status of the device through the power indicator (PWR), port status indicator (Link/Act), and POE operation indicator.
TECHNICAL SPECIFICATION
Model

BD-S1108FSI

Interface

8*10/100Base-TX (Data)

2*1000M TP/SFP Combo port (Data)

Network Protocol

IEEE802.3 10BASE-T; IEEE802.3i 10Base-T;

IEEE802.3u 100Base-TX;

IEEE802.3ab 1000Base-T;

IEEE802.3z 1000Base-LX/SX/CX

IEEE802.3x

Ethernet Port Feature

Port1-8 10/100Base-T(X),auto-sensing,

Port 9-10 10/100/1000Base-T,auto-sensing,full/half duplex MDI/MDI-X self-adaption

Fiber Port Feature

Gigabit SFP l fiber interface, default matching optical modules, need to buy separately, (optional single-mode/multi-mode, single fiber / dual fiber module, LC)

Forwarding Mode

Store and Forward(Full Wire Speed)

Switching Capacity

64Gbps

Forwarding

Rate@64byte

4.17Mpps

MAC Address Table

16K

Buffer Memory

4M

Twisted Pair Transmission

10BASE-T : Cat3,4,5 UTP(≤100 meter)

100BASE-TX : Cat5 or later UTP(≤100 meter)

1000BASE-T : Cat5 or later UTP(≤100 meter)

Fiber cable

Multi-mode :850nm 0~300M(10G) ,

Single-mode:1310nm 0~40KM , 1550nm 0~120KM 。

Total PWR / Input Voltage

Standby:<4W;Full load:<15W

LED

Power LED indicator: PWR (green),Network LED indicator: Link/Act (yellow), Fiber port :F(green),Speed  LED indicator: Speed(green)

Reset switch

Yes,support one key to restore factory settings

Power Supply

Default is not matched. If you need it, please see the accessory information in this specification.

Operation TEMP / Humidity

-40~+75°C;5%~90% RH Non condensing

Storage TEMP / Humidity

-40~+85°C;5%~95% RH Non condensing

Dimension(L*W*H)

165*145*54mm

Net /Gross Weight

<1.2kg / <2.0kg

Installation Method

Desktop,Rail mounting

Lightning/Protection Rating    

Port Lightning Protection 4KV 8/20us;

Protection Level IP40

IEC61000-4-2(ESD)±8kV Discharge,±15kV Air Discharge

IEC61000-4-3(RS)10V/m(80~1000MHz)

IEC61000-4-4(EFT)Power Line: ±4kV; Data Line: ±2kV

IEC61000-4-5(Surge)Power Line,CM±4kV/DM±2kV;Data Line,±4kV

IEC61000-4-6 (Radio Frequency Conduction) 10V(150kHz~80MHz)IEC61000-4-8 (Power Frequency Magnetic Field)

100A/m Continued; 1000A/m,1s to 3s

IEC61000-4-9 (Pulsed Magnetic Field) 1000A/m

IEC61000-4-10 (Damping Oscillation) 30A/m ,1MHz

IEC61000-4-12/18 (SHOCKWAVE) CM 2.5kV, DM 1kV

IEC61000-4-16 (Common Mode Conduction) 30V Continued; 300V,1s

FCC Part 15/CISPR22(EN55022)Class A

IEC61000-6-2(General Industry standard)

Mechanical Properties

 

IEC60068-2-6 (anti vibration)

IEC60068-2-27 (anti shock)

IEC60068-2-32 (free fall)

Certification

3C;

CE mark, commercial;CE/LVD EN60950;

FCC Part 15 Class B;

RoHS;

Warranty

Ethernet switch 5 years,lifetime maintenance

 Business features (only restricted management function models)

Interface

IEEE802.3x flow control (full duplex)

Broadcast storm suppression for port rate

support speed limit for incoming and offline message traffic, with a minimum particle size of 64Kbps.

Temperature protection setting

Energy saving configuration of port EEE Ethernet

VLAN

Support port based VLAN (4K), IEEE802.1q

Support protocol based VLAN

Support Access, Trunk, Hybrid three types of port configuration

Support QinQ configuration

Port Aggregation

Support LACP

Support static polymerization

Support the largest 8 aggregation groups, each aggregation group supports 8 ports.

Spanning Tree

STP(IEEE802.1d)

RSTP(IEEE802.1w)

MSTP(IEEE802.1s)

Multicast

 

Support IGMP Snooping V1/V2/V3 and support 64 multicast groups at most.

Support the user's quick departure mechanism

Support MLD Snooping V1/V2

Support multicast VLAN

Mirroring

Supports bidirectional traffic mirroring of basic ports

QoS

Diff-Serv QoS

Each port supports 8 output queues

Support 802.1p/DSCP priority mapping

Support queue scheduling mechanism (SP, WRR, SP+WRR)

priority tag Mark/Remark

ACL

Support L2 to L4 packet filtering function, can match the first 80 bytes of the message, provide based on the source MAC address, destination MAC address, source IP address, destination IP address, IP protocol type, TCP/UDP port, TCP/UDP port range, VLAN and other definition ACL.

Safety Characteristics

 

Support port isolation

Support port broadcast storm suppression

Support port + MAC binding, IP + MAC + port binding function

DHCP

DHCP Client

DHCP Snooping

System Requirements

 

Web browser: Mozilla Firefox 2.5 or higher, Google browser chrome V42 or higher, Microsoft Internet Explorer10 or later;

5 types and above Ethernet cable;

TCP/ IP, network adapter and network operating system (such as Microsoft Windows, Linux or Mac OS X) are installed on computers in the network.
APPLICATION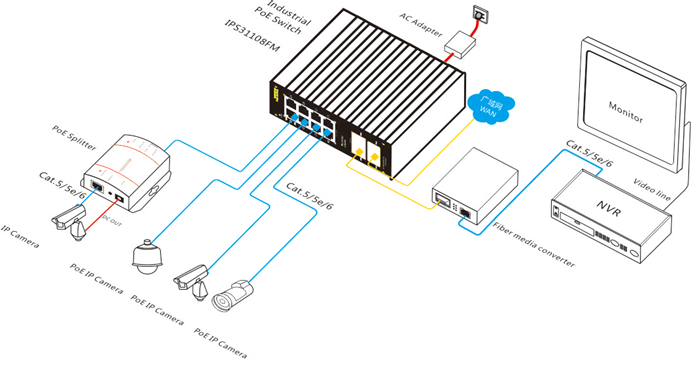 Order Information
| | |
| --- | --- |
| BD-S1108FSI |  8FE+2SFP industrial ethernet switch, manageable, with industrial power adapter AC220V/DC24V |
Payment & Security
Your payment information is processed securely. We do not store credit card details nor have access to your credit card information.