Description
MODEL: BD-S2108FS
Description:
BD-S2108FS is gigabit switche and framed on the new-generation Broadcom chip, are developed by BAUDCOM for working in high-performance network groups and enterprise's networks. The switch has 8 auto-adaptable 10/100/1000 Base-TX electric RJ-45 ports and 2 optional TX/SFP gigabit ports, and support 10/100/1000M connections, sonetworks can be flexibly configured.
Features:
Excellent performance
  64Gbps backboard bandwidth, uncongested design andfull wire-speed forwarding.
  Gigabit optical-fiber transmission with up to 80Km distance and directly connecting the MAN backbone network.
High security and reliability
  Providing multiple user authentication modes such as 802.1x authentication.
  Powerful ACL and hardware supporting L2 to L7 data filtration.
  Port-MAC-IP bind.
  Special ARP invasion detection to effectively stop ARP cheat.
Flexibleand various management modes
  Automatically identifying the straight-through cable and the intercrossed cable.
  Adopting the cluster technology; supporting devicecascading; managing uniquely through a unique IP address; saving address resources.
  Multiple management modes such as Console port,Telnet, Web and SNMP are supported.
Powerful flow and broadcast management
  Detecting and limiting broadcast stormsautomatically and supporting IGMP snooping to limit broadcast flooding.
  Supporting flow control in full-duplex mode orhalf-duplex mode.
  The rate limitation in a minimum step of  64K is supported on the Ethernet interface.
  Supporting IP multicast and QoS.
Technology Indexes:  
Standard configuration

8 10/100/1000M Base-T Ethernet ports

2 gigabit optical ports,One Console port

Backplane bandwidth

24Gbps

Forwarding rate

Full wire-speed filtering and forwarding

Switching mode

Store forwarding

Address table

8K

Queue buffer

64MB

Flow Control

Backpressure is adopted for half-duplex, while IEEE802.3x is adopted for full-duplex.

Broadcast control

The broadcast storm is constrained. When the threshold value for controlling the broadcast storm is reached, the broadcast packets are stopped from being forwarded.

Multicast control

Automatically monitoring IGMP packets

Service quality

Two transmission queues on each port are mapped to eight priority values of 802.1p.

Interface binding

Eight interfaces can be bound in a group through dynamic LACP or static aggregation, and 12 groups can be supported simultaneously.

Cascading

Cluster

Bridging

IEEE 802.1D-1998 spanning tree, path backup, IEEE 802.1w(RSTP)

VLAN

Supporting port-based VLAN, 802.1Q-labelled VLAN and dynamic VLAN configuration through GVRP

Number of VLANs

4K VLANs

QinQ

Support

QoS

Supporting QoS

Supporting ACL, flow classification on L2 to L4,

Network management

Supporting CLI, Telnet, SNMP and RMON
Supporting multiple general network management software

Power characteristics

AC current: 110-240V (auto-adaptable),  47-63Hz, 1A/230V, or 60V broadcast & TV power

Indicator

Power indicator, system indicator, connection/data forwarding indicator, 10/100M indicator

Temperature and humidity

Working temperature: 0-50℃
Storage temperature: -40-70℃
Humidity: 0-90% no condensation 
Application:

               8GE Port isolation application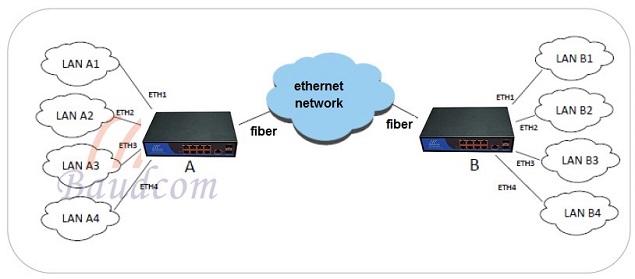 8 GE switch Vlan application