Description
Overview
Baudcom 8channels serial to ethernet converter (BD-8SERIAL-ETH) are are designed to make your industrial serial devices Internet ready in no time. The BD-8SERIAL-ETH device servers is the ideal choice for connecting your RS-232 or RS-422/485 serial devices—such as PLCs, meters, and sensors—to an IP-based Ethernet LAN, making it possible for your software to access serial devices from anywhere over a local LAN or the Internet. The user can configure the 8serial ports as RS232 or RS422 or RS485 (used as RS232 to ethernet converter or RS422 to ethernet converter or RS485 to ethernet converter), which is very convenient for customer's application and reducing cost.
The BD-8SERIAL-ETH serial device servers ensure the compatibility of network software that uses a standard network API (Winsock or BSD Sockets) by providing TCP Server Mode, TCP Client Mode, and UDP Mode. This excellent feature preserves your software investment and lets you enjoy the benefits of networking your serial devices instantly.
The BD-8SERIAL-ETH serial device servers support automatic IP configuration protocols (DHCP) and manual configuration via the handy web browser console. Both methods ensure quick and effective installation. And with the BD-8SERIAL-ETH's Windows Utility, User can search the serial device servers of local LAN ,also can config ,manager and monitor working state.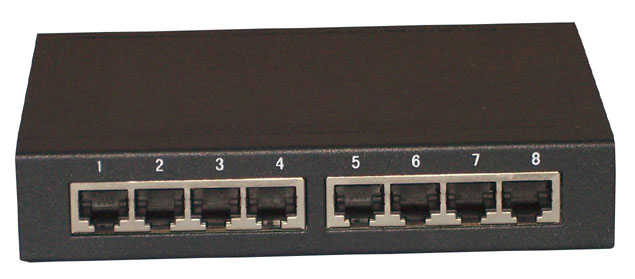 RS232/RS422/RS485 Selectable Back panel picture
Features
It use embedded real-time operating system,It's stable and reliable performance .
It provides rich working mode to realize the serial devices connect to network immediately.
It supports the Real com/TTY drive that is compatible with the original software system completely
It has a general transparent transmission mode that is TCP Server,Tcp Client and UDP.
It supports Pair Slave/Pair Master Mode and reverse Telnet Mode.
We can config and manage through Web browser or Telnet terminal.
       7.It supports a management software in Windows Platform,that provide a            powerful management function.
We are free to choose the RS232/RS422/RS485 serial type.
It uses a 10/100M

 

adaptive Ethernet port.
It embeds 15KV ESD surge protection.
The rate of serial communication is up to 460.8kbps
Application:
Connect serial devices to server based applications over an IP network

Manage remote serial console ports over an IP network

Virtual modem capability for modem-based applications
Ethernet Interface
10/100Mbps rate
full/duplex auto-negotiation
Protocol: Support IEEE 802.3
RJ45 connector
Magnetic Isolation Protection: 1.5 KV built-in
Serial interface
Software and hardware flow control
Terminal Block (3 pins per port)
TX and RX activity indicators
Serial Communication Parameters
Data Bits:

  

5, 6, 7, 8
Stop Bits:

  

1, 2
Parity:

  

None, Even, Odd, Space, Mark
Baudrate:

  

110 bps to 460.8 Kbps
Serial Signals
RS-232: TxD, RxD,GND
RS-422: Tx+, Tx-, Rx+, Rx-, GND
RS-485-2w: Data+, Data-, GND
Software
Network Protocols: ICMP, IP, TCP, UDP, HTTP, ARP,
Configuration Options: Built-in WEB server,
Windows Virtual COM Drivers: Windows 2000/XP/2003/Vista/2008/7
Dimensions:
183 x 88 x 30mm
Environmental Limits
Operating Temperature:

  

0 to

 

50°C
Storage Temperature:

  

-40 to

 

85°C
Ambient Relative Humidity: 5 to 95% (non-condensing)
Power Requirements
Input Voltage:

 

5 VDC, -48VDC, 110VAC and 220VAC(See Ordering Information)

 

Power Consumption: <5 watts
Application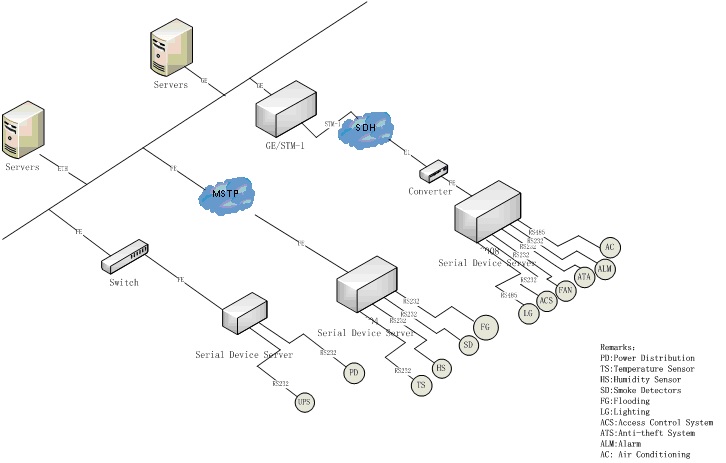 Management Screen: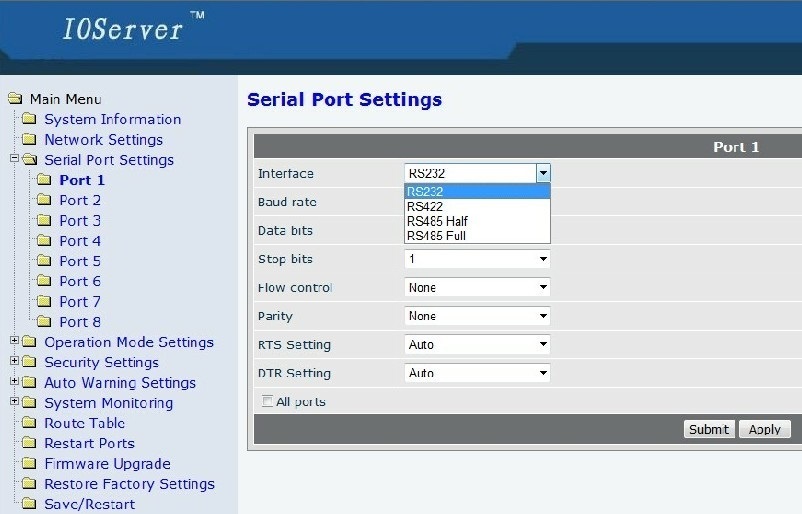 Order Information
| | |
| --- | --- |
| BD-8RS232-ETH | 8channel Serial to Ethernet converter, RS232, 10/100Mbps,terminal connector, power AC 220V |
Payment & Security
Your payment information is processed securely. We do not store credit card details nor have access to your credit card information.