Description
Overview:  
   BD-E1-ETH is a single port G.703 E1 to Ethernet converter (also called Ethernet over E1 TDM converter,G703 to ethernet converter) that provides high-speed LAN-to-WAN connectivity. Plugging directly into the 10/100Base-T port of a hub or LAN switch, the BD-E1-ETH provides E1 access at connection data rates of 2.048 Mbps. The ethernet over E1 converter is an excellent choice for internet access as well as LAN-to-LAN services.
  The E1 to ethernet converter can support mini desk type case and 19" rack mount type case. The 19" rack mount E1 converter can support double power (two AC or two DC or AC+DC),which strength the operation stability. 

Features:
   ●   Ethernet port 10/100M half/full duplex auto-negociation, supporting VLAN.
   ●   Ethernet port interface supports AUTO-MDIX.
   ●   Provides 2 clock types: E1 master clock, E1 line clock.
   ●   Provide LAN auto reset function, run more stably.
   ●   Has the function of pseudo-random code testing, convenient for opening of the circuit, and can be used as an error code instrument. 
   ●   Have three LoopBack Modes: E1 interface LoopBack (ANA),LAN interface LoopBack (DIG),command the remote LAN interface LoopBack (REM) .
   ●   E1 port support BNC(75ohm) dual coax and RJ45(120ohm) twisted-pair G.703 connections, and support 75ohm/120ohm adaptive ;
   ●   With abundant presentation function of Ethernet data, can detect real-time data communication status.
   ●   Can realize SNMP management in our chassis installation 

G.703 E1 Interface
Line Rate: 2.048Mbps±50ppm
Line Code : HDB3
Interface Standard: ITU-T G.703
E1 Impedance : 75ohm(unbalance) and 120ohm(balance)

Connections : dual coax and 120ohm twisted-pair (RJ45)
Jitter tolerance : finer than G.742 and G.823

10/100Base-T Interface


Rate: 10/100M, full/duplex auto-negotiation
Protocol: Support IEEE 802.3, IEEE 802.1Q (VLAN)
MAC Address Entiries: 4096 Entiries
Total Memory Sizes: 64MBits SDRAM
Physical interface: RJ45, support AUTO-MDIX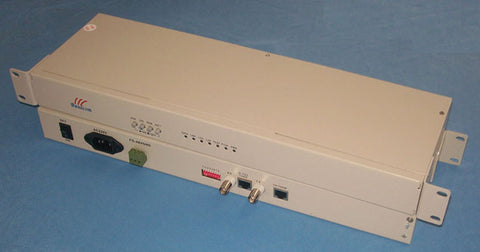 19 inch Rack mount G703 E1 converter  picture
DIMENSIONS
Mini type G703 E1 to ethernet converter:  210mm(W) × 140mm (L) x 30mm(H) 
19inch rackmount type ethernet E1 g703 converter: 433 mm(L)×138mm(W)× 44 mm(H)
ENVIRONMENT REQUIREMENT
The temperature requirement is not very strict, the device can be working well under terrible environment.
working temperature: 0C - 50C
relative humidity: 95%(without coagulation)
No erosive and impregnant gas, no rising dust, no strong magnetic field disturbing
Power
Adapting module power, voltage range can be wide, with strong ant-jamming function.
With good insulation, stable working status is available 
power: -48V type, input voltage: -36V~-72V
power: 220V type, input voltage: 165V~265V
power consumption: <5W
Application:


Order Information
| Product Model | Descriptions |
| --- | --- |
| BD-E1-ETH | E1 to ethernet converter, 750hm(BNC connector) and 120ohm(RJ45 connector), 10/100Mbps ethernet |
Payment & Security
Your payment information is processed securely. We do not store credit card details nor have access to your credit card information.