Description
BD-EOC-M is the integrated product consisting of one EOC master module with 1RF input and 1 Com output, one GEPON ONU module with 1 PON port and 3 LAN ports outputting data to EOC master module directly.
It is used as the fiber station node and the best choice for the existing coax cable networking for bi-directional service reconstruction without changing any original equipment, such as optical receiver and the coax distribution networking.
BD-EOC-M's RF input port connected to the optical receiver at the optical node for CATV signal input .Its data input port is GEPON PON port ,SC/PC connector ,connecting directly to the fiber from the uplink GEPON OLT .And it has only one com port mixed with data and catv to the coax distribution networking.
In this way ,it must be used with GEPON OLT system together ,deployed in EPON+EOC networking ,easier for networking maintenance via centralized network management software EMS on GEPON OLT to ONU module  and powerful and simple operated Web management for EOC Master to the EOC slave . BD-EOC-M use waterproof metal casing so it can be used in complex environment.
The following are functional and feature of BD-EOC-M:
Master module features:
Physical layer bandwidth is 200Mbps and MAC layer bandwidth is 100MBPS.
It can support HD video and other high bandwidth function
Frequency band is 7.5~30MHz so has no influence on CATV signal
Using waterproof metal casing
Upgrade by network management
Support auto-update and auto-configuration
Support QoS, provide transmission guarantee for various type of business data
Support bandwidth control. It can limit up and down stream
Broadcast Strom limitation
Mac Address Number limitation
Support terminal isolate
Specification
Interfaces:
RF Port
Physical Interface: F-type connector (metric or British type)
Number of Interface: 2
Interface definition: Cable, TV
Ethernet Port
Physical Interface: RJ45
Number of Interface: Two
Data Rate: 10/100Mbps self-adaptive
Interface Standard: 10Base-T, 100Base-TX
Transmission Distance :100 meters
Specification:
Slave Isolation
Slave equipment is isolation and can't communication with each other
Broad width Strom Limitation
Ethernet Port support limitation function of broadcast packet and unknown unicast packet to prevent a lot of this type of packet enter to Internet
Bandwidth Limited
Customer can set up bandwidth of slave uplink and downlink by managing interface. And slave uplink and downlink can be set up freely. Higher throughput IP can up to 100Mbps and the least particle size is 64Kbps
VLAN
The configuration is different with each VLAN. Each slave can be divided into a VLAN
 QOS
Distinguish different data packet by VLAN ID/802.1P priority and QOS. Each data packet can be configured with different uplink and downlink bandwidth and priority
Packet Statistics
Offer data of uplink and downlink and observe performance condition of ports according to statistic data
Link quality monitor
User can see quality parameter of network link through network management. And it can be displayed by dynamic graph.
Web Management
We support remote centralized management based on Network management platform Data  View software and function configuration.
Then you can see relevant configuration information such as device name, manufacturer, software version and others. You can also configure and manage Master and Slave centralized. Following is the interface of network management: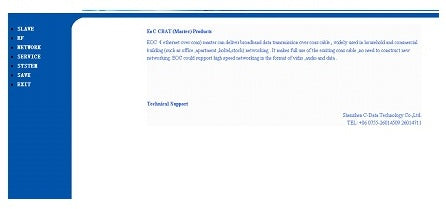 Application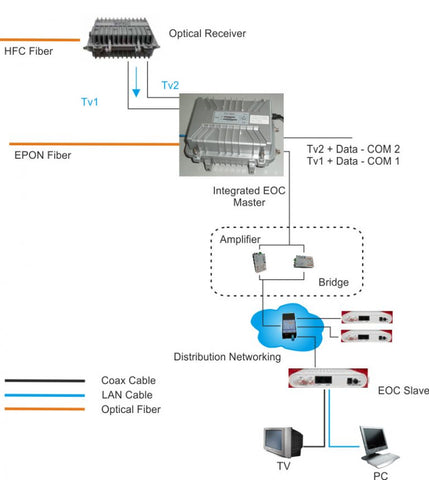 Order information
| Product Model | Descriptions |
| --- | --- |
| BD-EOC-M/O | Ethernet over Coax converter,master side, outdoor |
| BD-EOC-M/I | Ethernet over Coax converter,master side, indoor |
Q&A
Question 1: How many slaves can be conncted to one master? (how many slaves can be supportted by one master?)
Answer: One master unit can .connect to 50units slaves.
Question 2: What is the bandwidth of the eoc device?
Ans: Answer: Baudcom's EOC device (master and slave) support 10/100Mbps bandwidth.
Question 3:  How fare can be connected slave from master ?
Answer: Baudcom's EOC device can support 700meters distance between master and slave device.To keep margin budget,we suggest customer keep the distance as 500meters in the project.
Payment & Security
Your payment information is processed securely. We do not store credit card details nor have access to your credit card information.