Description
BD-EOC-S2/S4 is the Ethernet over Coax (EOC) slave based on HomePlug AV solution for Ethernet access on coax. It work together with EOC master which is based on HomePlug AV solution as well to construct a 2 layer Ethernet data transmission channel on CATV coax cable, provide the Ethernet access service based on coax cable.
BD-EOC-S2/S4 use INT6400 chipset, and OFDM module technique of highly interference resistant, take up the low frequency 7.5MHz-30MHz to transfer data, the physical layer speed is 200Mbps, while the max MAC layer throughout is 100Mbps.
BD-EOC-S2/S4 for data access could use current coax cable, easy and fast to construct without any effect of existing CATV on the cable.In the actual network constructive application, one master could connect 253 slaves maximum, and the network structure could be star or tree. BD-EOC-S2 is 2 Ethernet port slave, BD-EOC-S4 is 4 Ethernet ports slave.
Specification
Low frequency modulated eoc slave, use INT6400 chipset, HomePlug AV solution.
Work on low frequency 7.5-30MHz, will not affect the existing CATV.
Physical layer speed: 200Mbps; Max MAC layer throughout is 100Mbps.
Support encryption for both uplink and downlink data.
2 or 4 pcs of 10/100M self negotiation Ethernet interface.
Support slave (CPE) isolation.
Support VLAN configuration based on slave port or user end port.
Support bandwidth (speed) limitation for both uplink and downlink.
Support QOS configuration based on slave port or VLAN.
Support broadcast storm control.
Support data packages count
Automatically distribute slave configurations to newly connected slaves, available to use as soon as correctly connected and power on.
Support WEB/CLI/SNMP management
Support on-line upgrade
Application
Network access
VOD(video on demand service)
IPTV
Video Surveillance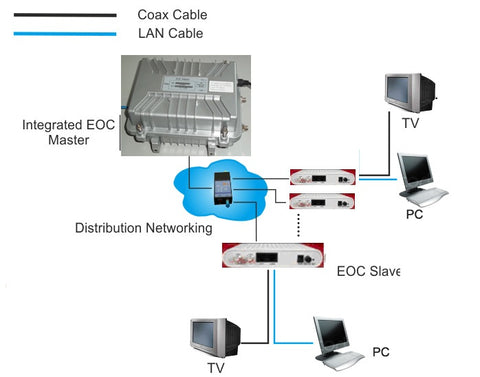 Order information
| Product Model | Descriptions |
| --- | --- |
| BD-EOC-S4 | ethernet over coax, slave side, 4*10/100Mbps ethernet ports |
Payment & Security
Your payment information is processed securely. We do not store credit card details nor have access to your credit card information.