Description
Overview
This protocol converter (interface converter) using large scale FPGA design, providing a framing E1 interface and an Ethernet interface and two serial interfaces, it is possible to achieve 10 / 100Base-T Ethernet data over E1 channels transmission, is a high performance,self-learning Ethernet bridge. The device serves as an extension of Ethernet devices, use of existing networks (PDH / SDH / microwave, etc.) provided by the E1 channels to interconnect both ends of the lower cost Ethernet and serial interfaces. Built-loop test equipment capabilities to facilitate the opening and routine maintenance works.
Photo


Mini Type


19 Inch 1U Type
Based on self -copyright  IC
Can realize monitor and control of remote equipment, OAM management data did not  take up user'

s timeslot and save E1 bandwidth

E1 supports any timeslot set, the rate is 64K-2048K
The local device can forced the remote device rate follow it
Have indicator  when the remote device is power-off or E1 line is broken or lose signal;
Have the function of E1 interface loop back check, avoid the converter crashed because of interface loop return;
The Ethernet interface supports jumbo frames (2036 Bytes);
Inter-set dynamic Ethernet MAC address (4,096) with local data frame filtering function
Ethernet interface supports 10M/100M, half/full duplex auto- Negotination, support VLAN
Ethernet interface supports AUTO-MDIX (crossed line and straightly connected line self-adaptable );
Have Ethernet monitor self-reset function, the equipment will not dead
Provide 2 clock types: E1 master clock and E1 line clock;
Provide 2 impedances: 75 Ohm unbalance and 120 Ohm balance; 
Support SNMP Network Management 
Serial Data Interface can be RS232/RS422/RS485/TTL optional
Serial channel can transmit adaptable serial data asynchronously 300 Kbps-14.400Kbps baud rate 
Serial data multiplexing in E1 support ITU-T R.111 jumping coding mode
The local RS232 serial data can command the remote RS232 serial data loop-back to the local. This loop-back in the outer ring of RS232 data interface, you can test the RS232 interface chip without damage
Serial port interface lightning-protection reached IEC61000-4-5 (8/20μ

S) DM(Differential Mode): 6KV, Impedance (2 Ohm), CM(Common Mode): 6KV, Impedance (2 Ohm) standard
E1 Interface
Interface Standard:          comply with protocol G.703;
Interface Rate:                  n*64Kbps±50ppm;
Interface Code:                 HDB3;
E1 Impedance:                  75Ω (unbalance), 120Ω (balance);
Jitter tolerance:                 In accord with protocol G.742 and G.823
Allowed Attenuation:         0~6dBm
Ethernet interface(10/100M)
Interface rate:                       10/100 Mbps, half/full duplex auto-negotiation
Interface Standard:               Compatible with IEEE 802.3, IEEE 802.1Q (VLAN)
MAC Address Capability:       4096
Connector:                              RJ45, support Auto-MDIX
Serial Interface
Standard
EIA/TIA-232 RS-232 (ITU-T V.28)
EIA/TIA-422 RS-422 (ITU-T V.11)
EIA/TIA-485 RS-485 (ISO/IEC8284)
Serial Interface
RS-422: TXD+, TXD-, RXD+, RXD-, Signal Ground
RS-485 4 wires: TXD+, TXD-, RXD+, RXD-, Signal Ground
RS-485 2 wires: Data+(Correspond TX+), Data-(Correspond TX-), Signal Ground
RS-232: RXD, TXD, Signal Ground
Working environment
Working temperature:            -10°C ~ 50°C
Working Humidity:                  5%~95 % (no condensation)
Storage temperature:               -40°C ~ 80°C
Storage Humidity:                    5%~95 % (no condensation)
Specifications
Model

Model Number : BD-FE1-FE-2RS232

Functional Description

1channel framed E1 to 1*FE +2RS232/422/485 converter,With E1 loopback detection function

Port Description

One E1 interfaces,one 100M Ethernet interface, Two data interfaces (RS232)

Power

Power supply: AC180V ~ 260V;DC –48V;DC +24V

Power consumption: ≤10W

Dimension

Product Size: Mini type  216X140X31mm (WXDXH),1.3KG/piece

19inch 1U type  483X138X44mm (WXDXH),2.0KG/piece
Application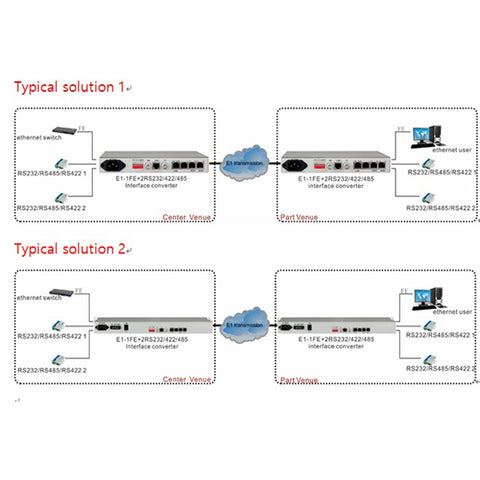 Order Information
| | |
| --- | --- |
| Model | Description |
| BD-FE1-FE-2RS232 |  E1 to Ethernet and 2RS232 converter | Ethernet and RS232 over E1, desk type |
Payment & Security
Your payment information is processed securely. We do not store credit card details nor have access to your credit card information.