Description
Fiber optic splice closures are one of the most important types of equipment for user access points, and junction box fiber optic splice cases are used to protect and distribute data between two or more cables. The connector box main purpose is to connect outdoor distribution cable to indoor cable. Because of its stable structure, easy construction, and strong sealing performance, the 96 Core fiber optic horizontal splice closure is widely utilized in optical fiber cable network systems, cable TV, communication systems, and other applications.
Features
 All property indexes are in accordance with National YD/T814-1996 Standard.

 The fiber optic splice cases are made from imported high-intensity engineering   plastics (ABS) and formed the shape with mould plastics under high pressure.

 Light weight, high mechanical intensity, corrosive-resistance, anti-thunderstruck and   long service life.

 Sealed with adhesive rubber strip(non-vulcanized) and sealed tape. Reliable sealing   capability. It can be re-opened and easy to maintain.

 Unique disposition of different cable loops enables user to choose different outer   diameter according to actual conditions, it enhances the reliability of the cable   entrance sealed.

 Overlapping fiber-melting tray and separate insulation earth unit make the   disposition of the cores, expanding the capacity and cable-earthen flexible,   convenient and safe.

 Outer metal component and fixing unit are made of stainless steel, so can be   repeatedly used in different environments.

 The purpose of the shell adopts high strength engineering plastic material adding   anti-aging agent.

 Seal all cable import and export and box opening are reliable.

 An optical fiber welding disc for laminated structure, operation is easy.

Fiber Optic Splice Closures are suitable for common cable and optical cable.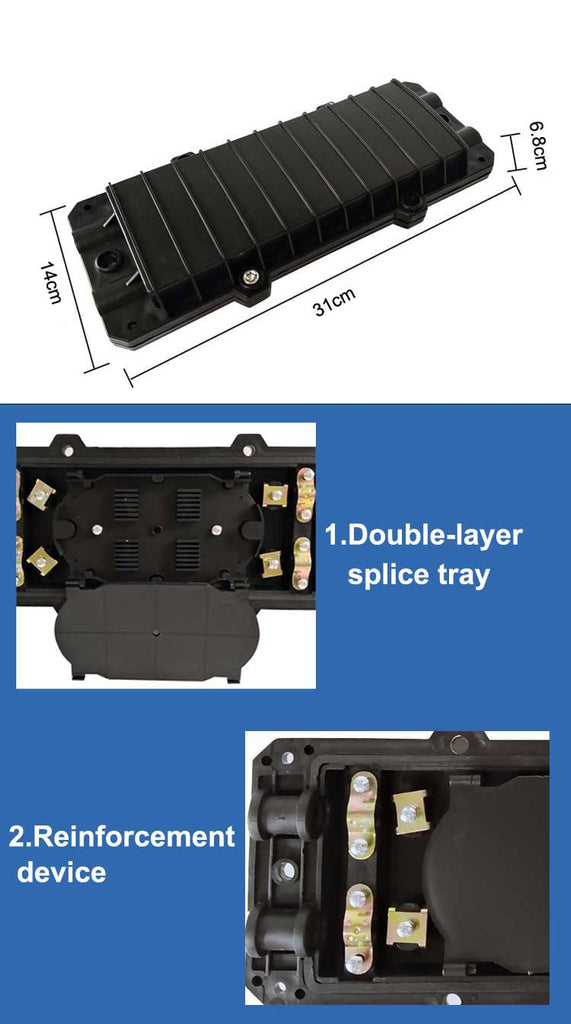 Application
Fiber optic splice closures are widely used in communication and network systems, CATV cable TV and optical cable network system. The fiber optic horizontal splice closure can be directly connected and branched. It has advanced structure, light weight and sealing performance. It is suitable for overhead, pipeline, pole and household.
Telecommunication subscriber loop
LAN/WAN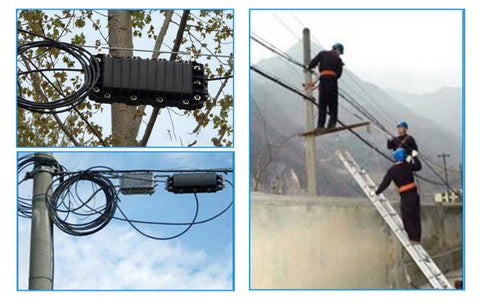 Order Information
BD-HOR-ClOSURE-12
horizontal Style (12 Cores fiber)Optical Splice Closure, PP material

BD-HOR-ClOSURE-24

 

horizontal Style (24 Cores fiber)Optical Splice Closure, PP material
Payment & Security
Your payment information is processed securely. We do not store credit card details nor have access to your credit card information.