Description
Handheld fiber optic power meter is integrated the OPM, VFL (visual fault locator) and RJ45 Tracker & Sequence function. The fiber optical meter has automatic shutdown function, three red light modes, backlight display, wavelength memory function, user calibration, wide test range, lighting. The  mini optical power meter is mainly used for continuous optical signal power measurement, optical fiber link loss test and optical fiber line on-off test.

The optical power meter is a self-developed test instrument which is widely used for installation, operation and maintenance of fiber-optic network. The optical power mete vfl can test optical power within the range of 800~1700nm wave length. There are 850nm, 1300nm, 1310nm, 1490nm, 1550nm, 1625nm, six calibrated wavelength. The optical power meter price is very good because of its cost-effective design.
Features:
Identify CW/270/330/1K/2KHz modulated frequency

Support 1270nm,1577nm wavelength test

Support CW/1Hz/2Hz three VFL modes

Support RJ45 cable sequence,cable tracking

Support backlight display,automatic shutdown

Support user calibration

Mini optical power meter supports wavelength memory function

Handheld fiber optic power meter supports SC/FC/ST interface

Supporting  dry battery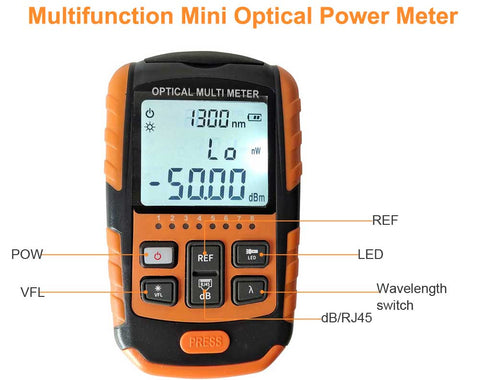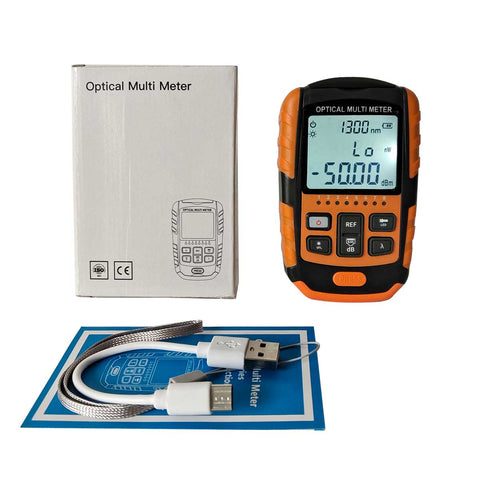 Handheld fiber optic power meter's s

pecification
Mini optical power meter's model
BD-POW-D01B
BD-POW-D01A
Wavelength(nm)
850~1700
Detector
InGaAs
Power range(dBm)
-70~+6
-50~+26
Uncertainty(dB)
±0.5%
Calibrated wavelength(nm )
850,980,1300,1310,1490,1550,1625,1650
Connector
Universal FC/SC/ST
Display resolution(dB)
0.01
Working Temperature(℃)
-10~+60
Storage Temperature(℃)
-40~+70
Auto off(min)
10
Battery working hours(h)
≥130
Power
2pecs of AA 1.5V battery /
Weight(g)
140 (without battery)
Dimension(mm)
112x66x30
RJ45 Wire tracker and sequence test
Optional
Payment & Security
Your payment information is processed securely. We do not store credit card details nor have access to your credit card information.