Description
Functions
The voice(FXS/FXO) phone over fiber modem realizes one channel voice phone over fiber transmission. This is cost-effective phone over  fiber mini device,which is suitable for one channel voice,low cost application field. Its merits include complete warning function, high integration, low consumption, stable performance and convenient usage.
PRODUCT CHARACTERISTIC
   ●   Have two row of LED , one indicate local status, the other indicate remote status
   ●   Realise auto-speed setting of local device to remote device
   ●   Having pseudo random code test function, can used as a 2M Protocol Analyzer
   ●   Provide 1 channels voice access, support calling indication
   ●   Voice port supports O port and S port, O port connect with PBX, S port connect with phone users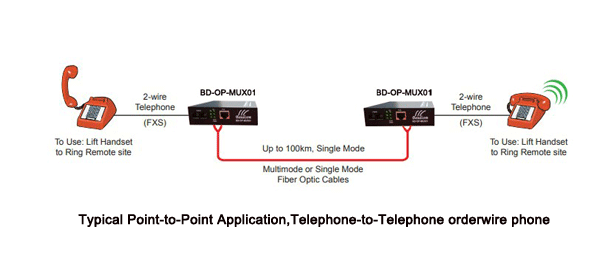 Optical interface    
   ●   Optical wavelength: single mode 1310nm/1550nm
   ●   Fiber: single fiber or double fiber for option
   ●   Transmitting consumption: -9dBm/-5dBm
   ●   Transmission range: 0-50Km/120Km for option
   ●   Optical interface: SC/FC
   ●   Receiving and dispatching module: >-6dBm
   ●   Optical receiver receiving sensitivity <-36 dBm (BER<10-11)
   ●   Fiber circuit code: NRZ code
Alarm voltage:                75V
Alarmf requency:            25HZ
2 line input impedance:  600Ω (hanging off)
Wastage:                         40db
Alarm detecting voltage:      35V
Alarm detecting frequency:  17HZ-60HZ
2 line input impedance:        600Ω (hanging off)
Wastage:                               40db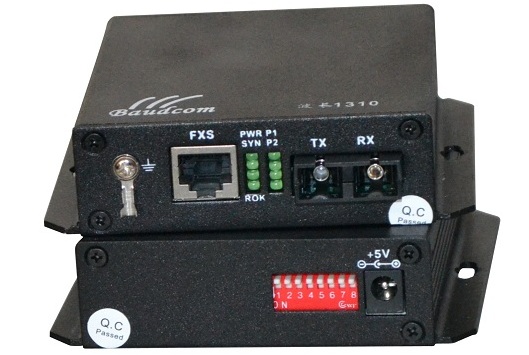 with built-out power adapter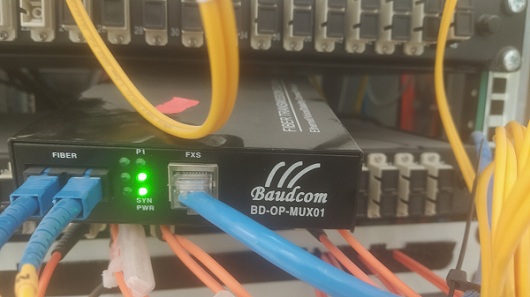 built-in power POTs fiber multiplexer
Power supply                         
working voltage range wide, good        
anti-disturb and Isolation, work stable     
option I – DC,range DC-36V~DC-72C   
option II – AC,range AC90V~AC240V
Power Consumption:      <=3 Watts
environment condition                  
Operating temperature:  0C~+50 C        
Storage temperature:   -20 C~+70 C
Relative temperature:95% (uncondensed)
Dimension     
   110mm(L) x 80mm(W) x 20mm(H)
Application

Order Information
| | |
| --- | --- |
| Model | Description |
|  BD-OP-MUX01 | 1 voice(FXS or FXO) over fibe modem,one channel phone over fiber, 20 km, power AC220V or DC48V. |
Payment & Security
Your payment information is processed securely. We do not store credit card details nor have access to your credit card information.